Kaori Ishihara's "'Onimai' love" 'If you watch to the end, your life will change in many ways'
February 23, 2023 (Thursday) 19:00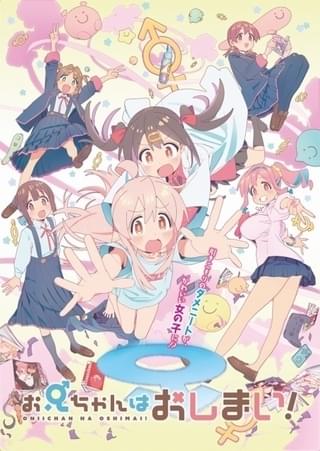 The TV anime "Onii-chan wa Oshimai!" (commonly known as "Onimai") is a daily comedy in which a withdrawn man becomes a cute girl. The cast is a continuation from the drama CD, with Marika Takano playing the role of Mahiro Oyama, the ex-brother who turned into a girl, and Kaori Ishihara playing the role of Mihari Oyama, the sister of a genius scientist who turned Mahiro into a girl. After appearing on the 20th episode of "Anime Hack TV" (delivered on February 4), Ishihara talked about her thoughts on "Onimai", who has been with her for a long time since her drama CD, and Mihari, who she plays. rice field. (Interview and Composition: Kotaro Gosho/Anime Hack Editorial Department)
――How did you feel about appearing on "Anime Hack TV"?
Ishihara: (Tokui) I was happy to see Aozora-san for the first time in a while, and it was fun to talk about my favorite "Onimai" a lot. I was surprised at my own incompetence in a game where two people cooperated and guessed, but thanks to Mr. Aozora's guessing, I was able to have a wonderful time from start to finish. rice field.
――Please tell us again about when you participated in the drama CD of "Onimai".
Ishihara: I was honestly happy when I first heard about the drama CD. I recorded the drama CD several times, but due to circumstances such as schedule conflicts, I was recording by myself at first. If I recall correctly, the first recording was done without Mahiro-chan's voice.
The original author Neko and Tofu-sensei also talked about it, but Mihari-chan at the beginning is a bit bullish. While showing such a bullishness, if you are too conscious of being Mahiro's younger sister, you will lose her dignity as a genius scientist. In that area, I made adjustments after adjustment to create a role. I thought it might be difficult at first because Mihari-chan has a lot of things I don't have, but as I was speaking to Mahiro-chan, I was happy to find something in common with her cuteness and myself. It became fun to play chan.
During the recording of the drama CD, I was also impressed by how Neko and Tofu-sensei kindly explained Mihari-chan and Mahiro-chan's position in the house. Every time I heard about the recording, I would say "Onimai"! "I was so excited during the post-recording."
――In what kind of situation did you find out about the animation?
Ishihara: I've done several drama CDs, and in the latter half of it, my teacher told me, "Maybe 'Onimai' could be made into an anime." The teacher was very happy, and at that time, not all of us were able to record, but several people were able to record, so we all had a blast.
However, it's common for the cast to change from the drama CD in anime, so when I was talking about things like that it might change, Nekotofu-sensei said, "I want to keep the cast as it is." It was said strongly, so I thought it would be nice if it really happened. After a while, I was really happy when I was told that the anime would be officially decided and that the cast would continue.
――How was the recording of episode 1?
Ishihara: In the first episode, only Mihari-chan and Mahiro-chan appeared, and Marinka (*Marika Takano's nickname) was alone with us. I had already heard her voice in the drama CD, but by watching the animation footage and acting with Marinka-chan, I was pleasantly surprised and wondered, "Wow, this is how it's going to turn out." I remember feeling a renewed sense of change. I felt like the character had become 3D inside me.
At the recording stage, the video was almost complete, and I could see that the paintings were moving very finely. While receiving words from the director and the sound director, while carefully recording each line, "Onimai" is the same as the drama CD and animation, and is a deep love filled with the thoughts and commitment of the staff. I could feel that it was a work of art. Being able to continue as a cast member of Onimai, I myself love the work and the characters, but if I continue like this, I will lose to the staff's love… I felt during the recording, It was also an episode that really made me think about how I should face "Onimai" again.
――In episode 1, for example, what kind of trouble did you have?
Ishihara: If anything, it was the part that I struggled with when making the drama CD, but I paid attention to Mihari-chan's tension. In episode 1, Mihari-chan explains what happened to Mahiro-chan, who has become a girl, but she says that her research is going well, so she should be happy and loud. was the first acting that I brought. When she actually did it, she looked like a university student rather than a researcher, so I received the direction that I could calm down (her tension) a little more. That said, Mihari-chan says things that make the viewers think, "Eh!?" It was a feeling.
What I just talked about is what I learned from my long relationship with Mihari-chan from the drama CD. rice field. By spending time with Mihari-chan for a long time, I was able to feel that the character was naturally alive within me.
――How was the recording with Takano-san alone?
Ishihara: We hadn't done a lot of regular work together, and both of us were the type to be shy (laughs), so at first there was a bit of distance between us. Thankfully, there is a policy called Onimai'' notebook, and after each broadcast, the cast and staff write a commentary in the notebook and upload it to the anime's official Twitter account. I had time to draw During the break, we were able to talk about what we should write, and from that kind of small communication, we talked about how we were impressed by the high quality of the video, and it was like,I really liked that." I was talking to you.
――Different from the drama CD, was it important that you were able to interact directly face-to-face?
Ishihara: I don't know if it's the right way to say "Tatami kakeru", but it was fun and exciting, especially when we were talking to each other at a good tempo. It's not that you can't do it alone, and in fact, there were many drama CDs that were recorded that way. You can also change the nuance. It's a "live thing", so even if you want to do it alone, you can imagine the other person's part, so for me it was one of the big differences between the drama CD and the anime.
――How did you feel when you saw the completed episode?
Ishihara: (Highly excited) Was it such a cute color!? "That's what I first thought." There are some things that are a little different from the original, but it feels like "onimai" is like this, and it feels like it fits naturally, plus it's full of cuteness. I was overwhelmed by the many elements to see other than color.
I've watched the dubbing footage many times for practice, and I've read the script, so I should know what's going to happen, but when I see the finished footage, I laugh at the same point. I was convinced that "this work will be amazing" even before the broadcast, and I thought that it would be January as soon as possible.
――The opening movie was great, but I was also surprised by the impact of the moving ending movie. What did you think as one of the people who sang the ending theme song?
Ishihara: The first time I saw the video of the ending movie was when I was on "Onimai Talk" (Twitter space & YouTube distribution program). The ending theme song "HimegotoCrisisters" has a fast rhythm and it's a lively song, so I thought it would be nice if I could move a lot. Even when I sang solo songs in other works, I didn't really know until the end what kind of picture it would actually be, and I always just imagined it, but "Onimai" is far beyond my imagination. It was a shock to go beyond. The song itself is fun, but the power of the visuals is enough to surprise you. There is a lot to see in a short amount of time, so I think it would be interesting to focus on one character each time.
――At the end of episode 5, Asahi Ouka (CV: Kana Yuuki) and Miyo Murosaki (Natsumi Hioka) newly appear, and from episode 6 onwards, the story of the 6 main characters is in progress.
Ishihara: I think that in the second half of the series, we will be able to see Mahiro's broad growth in a good way. Including Mahiro-chan, the relationship between her group of four classmates is really interesting and full of cuteness. After watching "Onimai", I'm sure the week's fatigue will go away somewhere, and I even think that if I watch it to the end, my life will change in many ways-just my own feelings. Yes (laughs).
"I feel very happy to be involved in such a cute work." I want you to see it again and again and be healed.
*Please also watch "Tokui Aozora no Anime Hack TV #20" in which Kaori Ishihara made a guest appearance.
Anime Hack Official Twitter, Follow & RT Gift Campaign
Autographed colored paper by Kaori Ishihara for 1 person
February 23rd to March 19th 23:59

Follow AnimeHack official Twitter.



RT (retweet) the tweet of the present announcement tweeted by the official Twitter. Please be careful not to unfollow until the end of the campaign.
https://twitter.com/animehackcom/status/1628696920850923520



Winners will be sent a DM (direct message) from the official Twitter account after the campaign ends.