"Seat and Soap" starring Kanta Sato and Yuno Ohara in a live-action drama depicting the pure love of scented fetish boys and sweaty girls
News Saturday, January 22, 2022 12:00
"Seat and Soap" starring Kanta Sato and Yuno Ohara in a live-action drama depicting the pure love of scented fetish boys and sweaty girls
The first public visual is a homage to the first volume of the original!
(C) "Seat and Soap" Production Committee / MBS
Kintetsu Yamada's popular manga "Seat and Soap" will be made into a serial drama. It was revealed that Kanta Sato (theatrical company EXILE) and Yuno Ohara will play the leading role, and broadcasting will start on February 3rd in the MBS drama special zone frame.
The popular comic "Seat and Soap", which started serialization in "Weekly D Morning" in 2018 and has exceeded 4.4 million copies in total with 11 volumes. He won the grand prize at the "2nd Manga Awards I Want to Read in Ebooks" and the 2nd place at the "3rd Manga Newspaper Awards". The pure love of "smell fetish boys" and "sweaty complex girls" is depicted.
The main characters are Kotaro Natori, who works for the cosmetics and bath products maker "Lilia Drop" and is a product development planner for soap, and Asako Yaejima, who works as an accounting department at the same company. Kotaro, the ultimate "smell fetish" who specializes in sniffing scents and occupations, encounters the "smell" that he is interested in in the corridor of the company. On the other hand, Asako, who is severely "sweaty", has had the experience of being teased as "sweat child" in her childhood, and the smell and sweat are complex. It was her daily routine to use deodorant products in the bathroom to distract her.
Kotaro, who has a strong desire to work and is loved by everyone, and Asako, a sober pure office lady who has almost no love experience. Two people who seem to be disproportionate are connected by "smell", and as they are sniffed and sniffed, they become mysteriously attracted.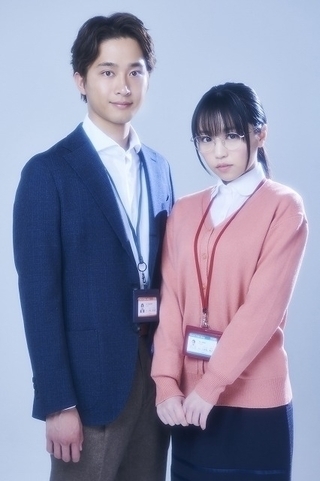 (C) "Seat and Soap" Production Committee / MBS
In the drama version, Sato will play Kotaro, and Ohara, who starred in the terrestrial serial drama for the first time, will play Asako. Directed by Shuhei Shibue of the drama "Bushi-Stant Osaka-kun!" The morals who are active in the field are in charge.
The special drama zone "Seat and Soap" will start broadcasting on February 3rd. MBS "February 3, episode 1 broadcast from 1:09 midnight (first time, episodes 2, 3 are pushed 10 minutes from 12:59 midnight normal time)", TV Kanagawa "February 3: 1 Talk broadcast from 11:00 pm, Ciba Tele is "February 4: 1 episode broadcast from 11:00 pm", Tochigi is "February 10: 1 episode broadcast from 22:30", TV Saitama is "2" May 10: 1 episode broadcast from 11:30 pm ", Gunma TV will be" February 10: 1 episode broadcast from 11:30 pm ".
The comments by Sato, Ohara, Director Shibue, and the original author Yamada are as follows.
[Kanta Sato (role of Kotaro Natori)]
I was a fan of the original manga "Seat and Soap" !! Because I knew the goodness of the manga, every time I faced the script written only in letters, I was excited and frightened that a very different drama would be born. I am reading while feeling mixed. In making this story full of happiness into a drama, I would like to create it so that you can convey the goodness of making it into a drama.
[Yuno Ohara (role of Asako Yaejima)]
I will play the role of Asako Yaejima in the drama special zone "Seat and Soap". I remember she returned crying happily the day she heard this story. I was originally reading the original, so I'm really happy to be involved. I'm about to shoot, but I want to cherish Asako's healthy and clumsy cuteness. And I would like to entrust myself to Mr. Sato and nurture this work.
It's a very pure romantic comedy that makes you positive by meeting a man who loves your complex. I hope that the people who watch it will sympathize with me. Thank you.
[Shuhei Shibue (Director)]
All the staff are serious about delivering the happiness of the two people who are full of the original to entertainment as much as possible.
And, I am biting into the best reward of drawing an invisible odor.
[Kintetsu Yamada (Original)]
When I heard about the drama, I didn't really understand what it was for a moment. After seeing the proposal, I finally realized that "that? Is this the true story?" …
I thought that the invisible "smell" and all aspects of the hurdles were high, but the enthusiasm of the staff, including the director, was conveyed to me!
As a viewer, I am very much looking forward to the director's skill and the excellent performance of the two leading actors !!
For movies, movies.com