"Aikis 3 cute" will be released on PS4 / Switch in March 2022! Event CG, package design released
"Aikis 3 cute" will be released on PS4 / Switch in March 2022! Event CG, package design released
January 21, 2022 16:450
New Information Adventure Switch PS4
"Aikis 3 cute" will be released on PS4 / Switch in March 2022! Event CG, package design released
Entergram will release "Aikis 3 cute" on PS4 / Switch on March 25, 2022.
"Aikis" is a beautiful girl game full of romance with realistic Imadoki school girls and exciting situations.
⇒
Icharab ADV "Aikis" Switch version will be released on December 23! Special benefits such as event CG and "playing in the water" tapestry are released!
This "Aikis 3 cute" starts from a new environment where the main character is just in the third grade. Whether you know the past work or not, you can play with a fresh feeling. You can also enjoy a date with graduate Aomi Pearl, Junko Kanno, and her senior at another school, Towako Tosu.
This time, the event CG and package design of "Aikis 3 cute" to be released on PS4 / Switch on March 25, 2022 have been released.

Arimori Gakuen is an art school located in a city a little far from the city center.
Two years have passed since I entered the school, and my senior in the first grade, "Anzu Sakurada"
Childhood friend beautiful sisters "Ayame Saegusa" "Hinata Saegusa"
Gal junior "Katsuragi Nanase" and "Ikue Kogure" "Riko Urushihara" who often come to play
At the same time, he lived a student life centered on a fulfilling work room.
As time passed, new students "Laura" and "Maniwa Karin" entered the school at the same time as Kyou's graduation.
"I'm loved by my younger sisters" The school life has begun!
[Event CG]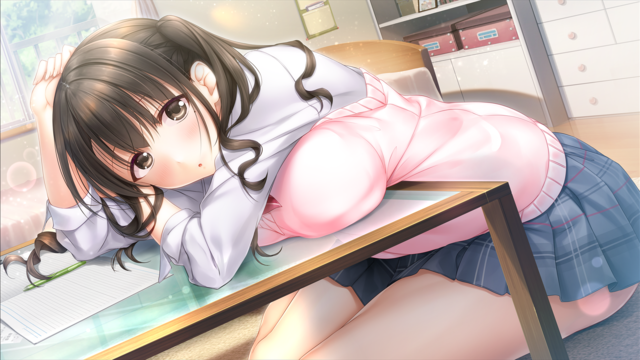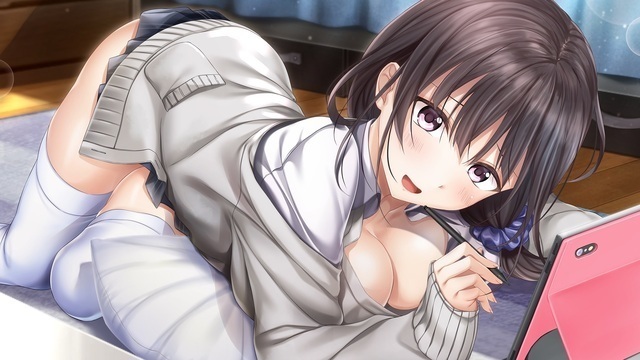 "Aikis 3 cute" gallery page
http://www.entergram.co.jp/aikiss3cute/gallery/
[Package design]
・ Full production limited edition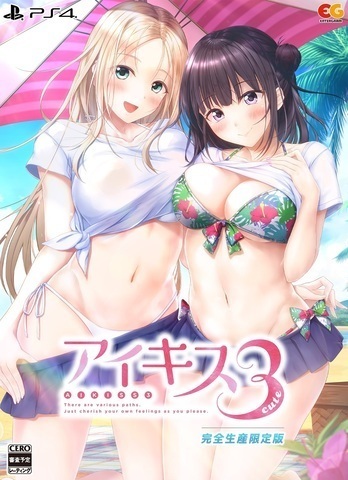 ·normal version


■ "Reservation redemption event 3rd" will be held in Akihabara!
Those who reserve the game will receive an original can batch of "Ayame Saegusa", one of the heroines of this game.
Date and time: Friday, January 28, 2022 12: 00-19: 30
Venue: Akihabara [Hirose Radio Building 5F Event Hall C]
Target products: "Aikis 3 cute" limited edition, "Aikis 3 cute" regular edition, "Aikis 1, 2, 3 pack"
Details page: http://www.entergram.co.jp/aikiss3cute/topics/reservationevent-3rd.html
* One item will be given for each reservation. It will end as soon as the prize runs out.
* If you make multiple reservations, we will give you the number of reservations, but up to 3 per person.
* There are no restrictions on reserved stores.
* When participating, a proof of reservation (reservation ticket or printout of order email) is required. It is not possible to check the screen on a mobile terminal.
[Title information]
■ "Aikis 3 cute"
Compatible models: PS4 / Switch
Brand: Entergram
Genre: Icharab Communication ADV
Release Date: March 25, 2022
price:
┗Regular version 7,678 yen (tax excluded: 6,980 yen)
┗ Limited edition 13,178 yen (tax excluded: 11,980 yen)
┗ 1, 2, 3 packs 14,080 yen (tax excluded: 12,800 yen)
Voice: Full voice except for the main character
Number of characters: 13
Number of capture heroines: 10 + 3 routes (Saegusa sisters have sister routes, Ayame, Hinata individual routes)

Character draft: Saki Kirizawa / Tamabbit Hazuki / Chisato Kobayashi
Original picture: Saki Kirizawa / Tamabbit Hazuki
Scenario: Shio Natsume
Design: Ai Fujimiya
SD illustration original picture: tefco
Coloring design: Midori Tsubame
Theme song: Singing Megu Sakuragawa feat. Sefuku Club / Composition and Arrangement Ham
BGM: SoundDrive, Riko Urushihara