TV anime "Slow Loop", teaser visuals and staff information released! Broadcast started in January 2022
TV anime "Slow Loop", teaser visuals and staff information released! Broadcast started in January 2022
May 21, 2021 18:000
New work information
TV anime "Slow Loop", teaser visuals and staff information released! Broadcast started in January 2022
New information has arrived from "Slow Loop", which was announced as a TV animation.
"Slow Loop" is a manga serialized by "Maiko Uchino" in "Manga Time Kirara Forward". Hiyori, who enjoys fly fishing, was taught by her late deceased, and Koharu, who is good at cooking and is innocent. It's a girls story about a first-year high school girl who became a "sister" due to her parents' remarriage and deepens their ties while fishing.
⇒
The girls story "Slow Loop" connected by fishing line will be made into a TV animation! Commemorative illustrations have arrived!

This time, it is decided to start broadcasting TV animation in January 2022. Teaser visuals and staff information have been released.
[Teaser visual]
"Hiyori" and "Koharu", who became sisters due to the remarriage of her parents, are dynamically depicted as enjoying fly fishing in the sea.

Hiyori, a girl who enjoys fly fishing, was taught by her late father alone at the beach.
When she is fishing as usual, she suddenly meets an innocent girl, Koharu, who is about to enter the sea.
The two of them decided to go fishing together, but in reality, the daughters of their parents' remarriage partners …?
Why don't you spend a slow time while "fishing" with Hiyori and Koharu who became "sisters" from a chance encounter?
In addition, main staff information is also disclosed. The director is Noriaki Akitaya of "Bakuman.", The series composition is Yusuke Yamada of "Lovely Little Planet", the character design and animation director is Shoko Takimoto of "Death March to the Parallel World Fantasy", and the animation production is "Strike".・ CONNECT of "The Blood" is in charge.
[Work information]
■ TV animation "Slow Loop"
Scheduled to start broadcasting in January 2022

Original: Maiko Uchino (Manga Time Kirara Forward / Yoshisha)
Director: Noriaki Akitaya
Series composition: Yuka Yamada
Character design / animation director: Shoko Takimoto
Animation production: CONNECT

Hiyori, a girl who enjoys fly fishing, was taught by her late father alone at the beach.
When she is fishing as usual, she suddenly meets an innocent girl, Koharu, who is about to enter the sea.
The two of them decided to go fishing together, but in reality, the daughters of their parents' remarriage partners …?
Why don't you spend a slow time while "fishing" with Hiyori and Koharu who became "sisters" from a chance encounter?
[Original information]
Written by: Maiko Uchino "Slow Loop"
Serialized in "Manga Time Kirara Forward" (released on the 24th of every month)
Volumes 1 to 4 of the comics are now on sale!
"Manga Time Kirara Forward" official website
http://www.dokidokivisual.com/magazine/forward/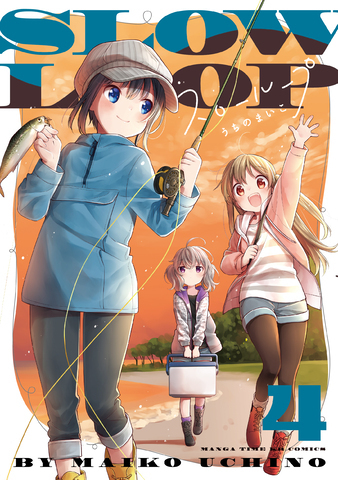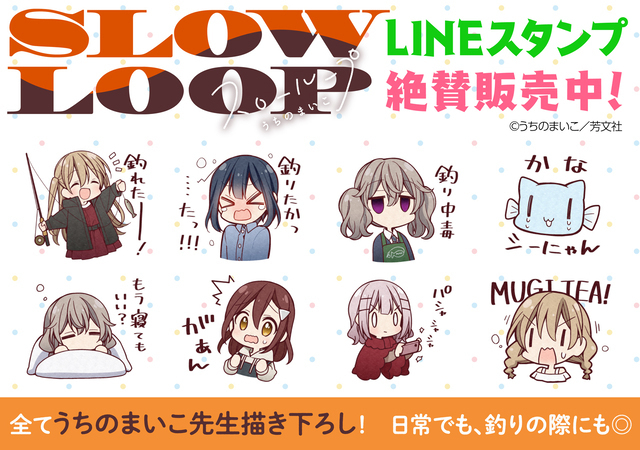 © Maiko Uchino / Houbunsha / Slow Loop Production Committee