Fishing camp! Winter animation "Slow Loop" Episode 3 Synopsis & Preceding scene cut released! Blu-ray / DVD benefits such as leisure seats are also decided
Fishing camp! Winter animation "Slow Loop" Episode 3 Synopsis & Preceding scene cut released! Blu-ray / DVD benefits such as leisure seats are also decided
January 20, 2022 18:000
DVD / Blu-ray 2022 Winter Anime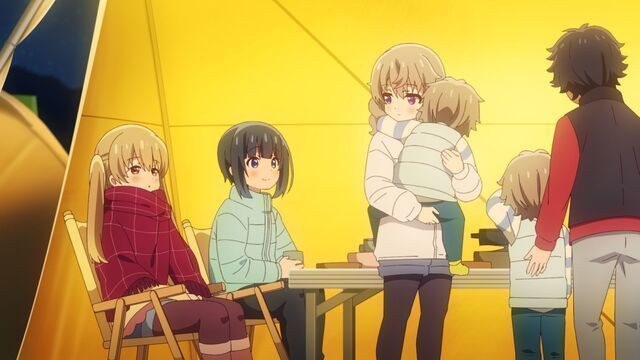 Fishing camp! Winter animation "Slow Loop" Episode 3 Synopsis & Preceding scene cut released! Blu-ray / DVD benefits such as leisure seats are also decided
From the TV anime "Slow Loop" being broadcast on TOKYO MX and others every Friday, the outline of the third episode "Thank you" and the preceding scene cut have been released.
"Slow Loop" is being serialized by "Maiko Uchino" in "Manga Time Kirara Forward". Hiyori, who enjoys fly fishing taught by her deceased, and a young spring who is good at cooking and innocent. It is a girls story that deepens.
⇒
Broadcast started on January 7, 2022, TV animation "Slow Loop" PV, characters, cast information 2nd release! OP theme & ED theme decided !!
This time, the synopsis and the preceding scene cut of the third episode of the TV animation that will be broadcast on January 21 (Friday) have been released.
[Synopsis / preceding cut]
■ Episode 3 "Thank you"
One day, Hiyori and Koharu were watching each other's albums in the room. Then Koharu catches his eye on a photo. It was a picture of Hiyori fishing on a boat with her father when she was young.
Hiyori used to go to a "fishing camp" with her love family. Upon hearing that, Koharu came up with something to deepen the friendship of her family …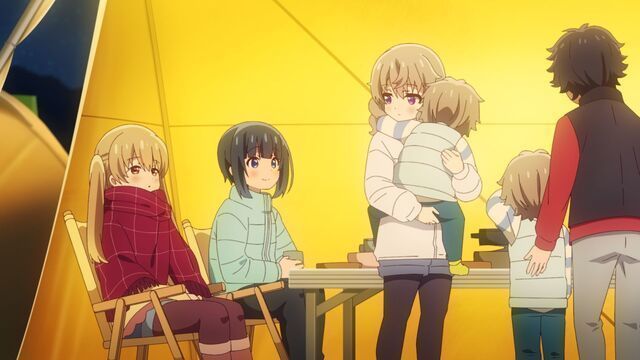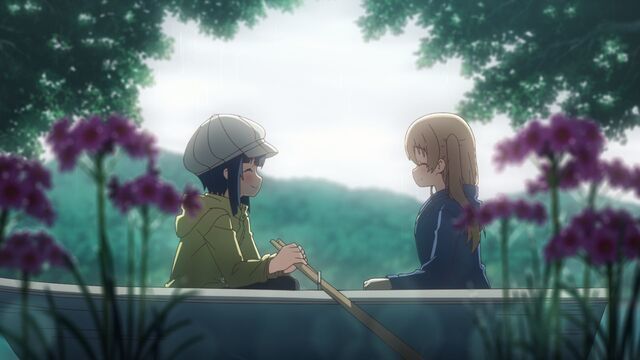 Screenplay ︓ Keiichiro Ochi Storyboard ︓ Takumi Shibata Director ︓ Sota Yokote
General animation director ︓ Sachiko Takimoto
Animation director: Natsuna Hayashi, Yuki Muranaga, Misaki Ohata, Joji Yanase, STUDIO MASSKET

■ Blu-ray & DVD Volume 1 will be released on March 30, 2022
Volumes 1 and 2 include ticket priority sales application tickets for special events to be held in June!
Furthermore, if you make a reservation for Volume 1 at the target store, you will receive a "leisure sheet drawn by Maiko Uchino" on the first-come-first-served basis.
[Early reservation campaign]
Shipping:
Slow Loop Vol.1 [Blu-ray] ZMXZ-15321
Slow Loop Vol.1 [DVD] ZMBZ-15331
Target stores:
Amazon.co.jp
* Only products with the description [Amazon.co.jp Limited Edition] (early reservation privilege: original, with a leisure sheet drawn by Maiko Uchino) are eligible.
All Animate stores (including mail order)
All Gamers stores (including online shops)
Sofmap (only for video software stores, including dot-com) / Animega (excluding some Animega stores)
All Toranoana stores (excluding some stores, including mail-order sales)
G-Store / WonderGOO / Shinseido (excluding some stores)
HMV (including online shop)
Getchu.com
Neo wing
AmiAmi
Seven Net Shopping
Rakuten Books
Benefits: Leisure sheet drawn by Maiko Uchino
[Work information]
■ TV animation "Slow Loop"

AT-X From January 7th Every Friday from 22:00
(Repeat broadcast: Weekly (Tuesday) 10: 00 ~ / Weekly (Thursday) 16: 00 ~)
TOKYO MX From January 7th Every Friday 22: 30 ~
Sun TV From January 7th Every Friday from 24:00
KBS Kyoto From January 7th Every Friday from 24:00
TV Aichi From January 7th Every Friday 27: 05 ~
BS11 From January 7th Every Friday from 23:00

Simultaneous terrestrial broadcasting and fastest single delivery decision at d anime store
d Anime Store From January 7th Every Friday 22: 30 ~
Other sites will be delivered sequentially

Original: Maiko Uchino (Manga Time Kirara Forward / Hosekisha)
Director: Noriaki Akihito
Deputy Director ︓ Mamoru Geisei
Series composition
Character design and animation director ︓ Shoji Takimoto
Fishing scene production ︓ Shiba Takumi
Cooking / effect animation director ︓ Kyota Washikita
Art Director: Rinko Morokuma (Studio Tenjin)
Color design ︓ Erika Yoshino
Cinematographer ︓ Atsushi Sato (Studio Shamrock)
3D Director ︓ Toshiro Hamamura (Wired)
Edit ︓ Maki Senji (REAL-T)
Hibiki Director ︓ Masaki Oya
Music: Takuro Iga
Music production ︓ Flying dog
Animation production ︓ CONNECT
Production ︓ Slow Loop Production Committee

Hiyori Kainagi ︓ Rin Kusumi
Kainagi Spring ︓ Hioka Natsumi
Yoshinaga Koi ︓ Tomomi Mineuchi
Kazuka Fukumoto: Kaori Nazuka
Futaba Fukumoto: Natsumi Murakami
Aiko Ninomiya: Honoka Inoue

Hiyori, a girl who enjoys fly fishing, was taught by her late father alone at the beach.
When she is fishing as usual, she suddenly meets an innocent girl, Koharu, who is about to enter the sea.
The two of them decided to go fishing together, but in reality, the daughters of their parents' remarriage partners …?
Why don't you spend a slow time while "fishing" with Hiyori and Koharu who became "sisters" from a chance encounter?
[Original information]
Written by: Maiko Uchino "Slow Loop"
Serialized in "Manga Time Kirara Forward" (released on the 24th of every month)
Volume 6, released on March 10, 2022!
"Manga Time Kirara Forward" official website
http://www.dokidokivisual.com/magazine/forward/
(C) Maiko Uchino / Houbunsha / Slow Loop Production Committee