"Love is After World Domination" This PV, new key visual release OP theme song Masayoshi Oishi duet with Yukari Tamura
News Friday, January 14, 2022 12:00
"Love is After World Domination" This PV, new key visual release OP theme song Masayoshi Oishi duet with Yukari Tamura
(C) Hiroshi Noda, Takuhiro Wakamatsu, Kodansha / Koiseka Production Committee
Broadcast of "Love After World Domination", which is a TV animation of a romantic comedy manga serialized in "Monthly Shonen Magazine" (published by Kodansha), will be broadcast on BS Asahi, AT-X, TV Aichi, and TOKYO MX in April. It was decided to start. This promotion video and the second key visual have been released, and it has become clear that Masayoshi Oishi and Yukari Tamura will collaborate on the opening theme song.
The original work by Hiroshi Noda (original) and Takuhiro Wakamatsu (manga) is a battle between Aikawa Fudo (CV: Yusuke Kobayashi), the leader of "Ikumi Sentai Gelato 5" who protects justice, and the evil organization "Gecko". Desumi Sadahara (Ikumi Hasegawa), a member leader and princess of the god of death, depicts a battle while hiding her dating from her friends.
(C) Hiroshi Noda, Takuhiro Wakamatsu, Kodansha / Koiseka Production Committee
This PV starts from the battle scene of "Gelato 5" and "Gecko". Members of both organizations are introduced with dialogue, as well as a scene where Fudo confesses to Death Beauty and a scene where both pledge to keep her secret. In the key visual, the members of "Gelato 5" and "Gecko" confront each other with a sense of urgency behind the immobility surrounding the drink with a straw for couples and the aura that Death Beauty seems to be happy. It is drawn.
In the opening theme song "Koi wa Explosion (feat. Yukari Tamura)", a duet of Masayoshi Oishi and Yukari Tamura is realized. The sound source of the song is released in this PV. Below are comments from Masayoshi Oishi.
[Oishi Masayoshi (Opening theme song)]
Originally, there was a strong desire to make the opening theme song a duet song for men and women, but a duet with Yukari Tamura was realized! Thanks to you, it became a fucking big emotional song!
We hope that you will enjoy the music along with the anime works!
Work information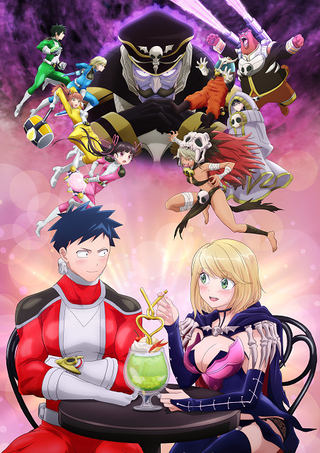 Work information Event information
Love is after world domination
Broadcast time 2022 spring animation
Production company
project No.9
Staff information
[Original] Hiroshi Noda, Takuhiro Wakamatsu (published by Kodansha, "Monthly Shonen Magazine") [Director] Takazuya Iwa [Series composition] Satoru Sugisawa [Character design] Akemi Kobayashi [Sound director] Satoshi Motoyama [Music] Satoshi Hono, Ryunosuke Kasai [ Music Production] Pony Canyon, Up Dream [Produce] Dream Shift Love After World Domination
Synopsis
Let's explain! Aikawa Fudo, the leader of the hero squadron "Gelato 5 (Five)" aiming for world peace, and Desumi Sadahara, the combatant leader of the secret society "Gecko" aiming to conquer the world. It's a hero). They had a deep "fate" beyond the walls of the organization … !! Actually, these two people … are dating! Two people who started a secret dating without disclosing it to the public or friends. But for the two pure love beginners, everything is new. The forbidden romantic comedy, where the match ends when it gets caught, has begun !!
music
[OP] Masayoshi Oishi "Koi wa Explosion (feat. Yukari Tamura)"
cast
Aikawa Fudo (Red Gelato): Yusuke Kobayashi Desumi Sadahara (Princess Shinigami): Ikumi Hasegawa Prince Hayato (Blue Gelato): Kazuyuki Okitsu Jinguji Misaki (Yellow Gelato): Nene Hieda Daigo Todoroki (Green Gelato): Junji Majima Arisugawa Haru (Pink gelato): Rina Hidaka Majima Junji (Majima Princess): Kana Hanazawa Kuroyuri Kyoko (Steel Princess): Hisako Kanemoto Hojo Yami: Sakura Ayane Ran (Princess Condemnation): Naoko Momotsuki
See more
Related Links
[Official site] https://koiseka-anime.com/