The latest PV of the TV anime "The Case Study of Vanitas" has been released! The ED theme is LMYK! Distribution of "Starter Book" has also started at Animate nationwide
The latest PV of the TV anime "The Case Study of Vanitas" has been released! The ED theme is LMYK! Distribution of "Starter Book" has also started at Animate nationwide
June 22, 2021 11:100
Anison video available 2021 Summer Anime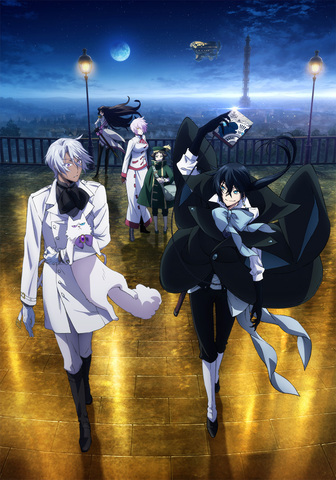 The latest PV of the TV anime "The Case Study of Vanitas" has been released! The ED theme is LMYK! Distribution of "Starter Book" has also started at Animate nationwide
The latest PV and music information will be released from the TV anime "The Case Study of Vanitas", which will be broadcast on TOKYO MX and others on Friday, July 2, 2021. In addition, distribution of "The Case Study of Vanitas" Starter Book has started at Animate nationwide.
"The Case Study of Vanitas", which is serialized in the monthly "Gangan JOKER", is the latest work by Jun Mochizuki, the original author of the popular manga "Pandora Hearts", which has a cumulative total of over 5.5 million copies. Focusing on the vampire youth Noe and the human Vanitas who claims to be a vampire specialist, he depicts a vampire tan of curse and salvation.
⇒ "The Case Study of Vanitas" serialized in "Gangan JOKER" will be made into a TV animation in the summer of 2021! The role of Vanitas is Natsuki Hanae, and the role of Noe is Kaito Ishikawa !!
Today, the latest PV using the main video is released. In the PV, Sasanomaly's opening theme "Sky and Void" and the ending theme LMYK "0 (zero)", which will be the first ban on this PV, are used.
Latest PV released! The ED theme is LMYK's "0 (zero)"

■ ED theme: LMYK "0 (zero)"

I am very honored to be involved in "The Case Study of Vanitas" in the form of an ending theme.
I was fascinated by the setting of the original stage and the beauty of the picture, so I am very happy with this animation and I am looking forward to it as a viewer.
The song "0 (zero)" was written with an inflated imagination based on the core of a mysterious story. As I pursued "what awaits me in the end" with the main characters, the question "what will continue to exist there?" Arose in me. What is the "thing" that stands in the passing days, pursuing with all one's might? I hope it's a song that touches the "unknown" that overflows in this story and the world.
LMYK
* Original Sic


・ LMYK (reading: LMYK)
Singer-songwriter.
Using a style that naturally mixes English and Japanese and the whispering voice like an orchestration, the work produced by the world's leading producer team Jimmy jam & Terry Lewis makes it look like a garden where sounds bloom. The world view that visualizes the sound is just right to call it the New World Standard.
Debuted on November 6, 2020 with the Japanese dubbed version of the theme song "Unity" for the movie "The Legend of Hei: The Future I Choose". In 2021, he will release a new song "0 (zero)".
Distribution of "Starter Book" has started!


In addition, along with the release of the latest 9 volumes of the original comics today, "Starter Book" will be distributed at Animate nationwide. In addition to the trial reading of one episode, it is a book that contains animation information, so please pick it up.
* It will end as soon as it runs out.
* Some stores do not carry out this.
* The anime introduction part will be released on the official website at a later date.
[Work information]
■ TV anime "The Case Study of Vanitas"

Broadcast on TOKYO MX and others from 24:00 on Friday, July 2, 2021
・ TOKYO MX From Friday, July 2nd, every Friday from 24:00
・ Tochigi Television From Friday, July 2nd, every Friday from 24:00
・ Gunma TV From Friday, July 2nd, every Friday from 24:00
・ BS11 From Friday, July 2nd, every Friday from 24:00
・ MBS From Saturday, July 3rd, every Saturday from 26:38
・ CBC TV From Wednesday, July 7th, every Wednesday from 26:35
・ Hokkaido Broadcasting From Thursday, July 8th, every Thursday from 25:58
・ RKB Mainichi Broadcasting From Thursday, July 8th, every Thursday from 27:00
・ Animax * The date and time of the first broadcast will be announced at a later date.

・ Weekly (Friday) 24:30 latest story delivery from July 2nd
Amazon Prime Video
・ Weekly (Tuesday) 12:00 latest story delivery from July 6th
d Anime Store / d Anime Store for Prime Video / Niconico Channel / GYAO! / Bandai Channel / Hulu / Video Market / music.jp / Hikari TV / FOD / U-NEXT / All-you-can-eat anime / ABEMA Video
・ Weekly (Tuesday) 23: 00-live delivery of the latest episodes from July 6th
Nico Nico Live Broadcasting
・ Weekly (Tuesday) 23: 30-latest story live delivery from July 6th
ABEMA

Original: Jun Mochizuki (published monthly "Gangan JOKER" published by Square Enix)
Director: Tomoyuki Itamura
Series composition: Deko Akao
Character design / animation director: Yoshiyuki Ito
Sub-character design: Tomoyo Nakayama
Prop design: Shinpei Ishibashi
Visual concept / color design: Izumi Takizawa
Art design: Shuhei Tada
Art Director: Shingo Kanai
Cinematographer: Zhang Yi
3DCG Director: Takuma Miyake
Edit: Megumi Matsuhara
Music: Yuki Kajiura
Sound Director: Kazuhiro Wakabayashi
Sound effects: Shizuo Kurahashi (sound box), Sachiko Nishi (sound box)
Animation production: Bonds

Opening theme: Sasanomaly "Sky and Void"
Ending theme: LMYK "0 (zero)"

Vanitas: Natsuki Hanae
Noe: Kaito Ishikawa
Jeanne: Inori Minase
Luka: Shino Shimoji
Dominique: Ai Kayano
Teacher: Akira Ishida
Muru: Miyu Komaki
Dante: Taro Kiuchi
Johann: Koji Yusa
Leeche: Riho Kuma
(C) Jun Mochizuki / SQUARE ENIX ・ "The Case Study of Vanitas" Production Committee