"The Orbital Children" and "Denno Coil" collaboration visual completed. Making program broadcast on BS Fuji
News Thursday, January 13, 2022 18:00
"The Orbital Children" and "Denno Coil" collaboration visual completed. Making program broadcast on BS Fuji
Collaboration visual drawn by Toshiyuki Inoue
(C) MITSUO ISO / avex pictures / The Orbital Children's Production Committee
(C) Mitsuo Iso / Tokuma Shoten / Denno Coil Production Committee
A collaboration visual between Mitsuo Iso's latest work "The Orbital Children" and Mitsuo Iso's original TV animation "Denno Coil" that was broadcast in 2007 was shown.
The visual was drawn by Toshiyuki Inoue, the main animator of "The Orbital Children" and the chief animation director of "Denno Coil". The main character of "The Orbital Children", Toya, is depicted playing with the cyber pet Densuke who appears in "Denno Coil", and around it, he appears in Toya's partner Drone Ducky, "Denno Coil". You can see the father, Mojo, and Satchie.
It has also been decided that the making program of "The Orbital Children" will be broadcast on BS Fuji. It is closely related to the production site and the charm of the work is delivered. It will be broadcast on January 20th and 27th from 12:30 midnight to 1:00 midnight.
In addition, BS Fuji will rebroadcast "Denno Coil" from January 22nd to February 6th. It will be delivered all at once on January 22nd and 23rd on Nico Nico Live Broadcasting.
"The Orbital Children" is an original animation directed by Iso, written, written and directed by Iso. Set in 2045, when everyone can go to outer space, children born on the moon and children who have traveled to space from the earth will face the accident that occurred at the Japanese private space station "Anshin". The theater screening version will be screened for the first part from January 28th, and the second part will be screened for two weeks each from February 11th, and all six episodes will be simultaneously distributed worldwide on Netflix from January 28th.
Work information
Extraterrestrial Boys and Girls Updated January 12, 2022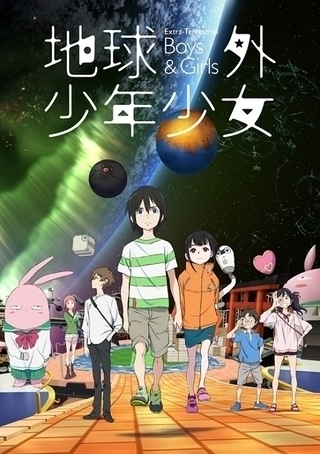 Work information Event information
Orbital boys and girls
Broadcast time 2022 winter animation
Production company
Production + h.
Staff information
[Original] Mitsuo Iso [Director] Mitsuo Iso [Screenplay] Mitsuo Iso [Character Design] Kenichi Yoshida [Main Animator] Toshiyuki Inoue [Art Director] Yusuke Ikeda [Color Design] Miho Tanaka [Music] Rei Ishizuka [Sound Director] Shimizu Hiroshi Extraterrestrial Boys and Girls
Synopsis
Japanese space station "Anshin". Toya, a moon-born boy who was rehabilitating at the station to move to the earth, and his childhood friend, Kokoroha, are at the station with children, Ocean, Miina, and Dr. who came from the earth on their first space trip. And get involved in a comet collision. A closed space where the internet is cut off from the adults. Children sometimes repel and sometimes help each other to face various difficulties such as decompression, EVA (spacewalk), and micromachine runaway.
music
[Theme song] Harusaruhi "Oarana"
cast
Toya Sagami: Natsumi Fujiwara Nanase, Б, Kokoro: Azumi Waki, Taiyo Tsukuba: Kensho Ono, Miina Misasa: Chinatsu Akasaki, Dr. Taneshima: Yumiko Kobayashi, Houston: Mariya Ise
Related Links
[Official site] https://chikyugai.com/