A manga "Toppen !!!" in which high school girls aim for the pinnacle of laughter, made into a TV animation in 2010, starring Aimi of Team Y
News Monday, January 10, 2022 20:00
A manga "Toppen !!!" in which high school girls aim for the pinnacle of laughter, made into a TV animation in 2010, starring Aimi of Team Y
Volume 2 of the original comic will be released on January 20th
(C) UUUM (C) Namamugi / Inujun (C) BUSHIROAD MEDIA
It has been decided that the manga "Toppen !!!" serialized in "Monthly Bushiroad" will be made into a TV animation with the title "Toppen !!!!!!!!!!!!!!!". Scheduled to be broadcast in 2022.
"Three voice actor sisters [Team Y]" in cooperation with the draft
This work is a youth girls story in which Mikoi Sasaki, Aimi, and Ayasa Ito cooperate with the original draft of the unit "Voice Actor Three Sisters [Team Y]" who are active on YouTube. Set in Osaka, three high school girls aim for the pinnacle of laughter.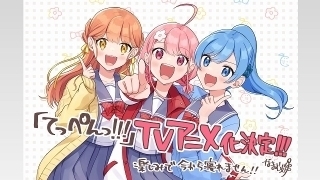 Celebration illustration by Mr. Namamugi in charge of manga
(C) UUUM (C) Namamugi / Inujun (C) BUSHIROAD MEDIA
The main characters will be played by Team Y, with Ayasa Ito playing the role of Yayoi Sakamoto, Aimi playing the role of Yomogi Takahashi, and Sasaki playing the role of Yuzu Hosono.
Work information
Top !!!!!!!!!!!!!!! Updated January 7, 2022
Work information Event information
Top !!!!!!!!!!!!!!!
Broadcast time 2022 animation
Staff information
[Original] Namamugi, Inujun "Toppen !!!" ("Monthly Bushiroad" published by KADOKAWA) [Draft cooperation] Team Y (Mikoi Sasaki, Aimi, Ayasa Ito) [Anime character draft] Namamugi Toppen !!!!!!!!!!!!!!!
Synopsis
Yayoi Sakamoto, who loves to laugh, enrolled in a private Kazuki High School in Namba, Osaka. He reunites with his childhood friend, Yomogi Takahashi, who had formed a combination called "Konamonzu" when he was little. Immediately, a mysterious girl called out when I was trying to make a story in the park of memories in order to enter the contest in the shopping district. Three voice actor sisters [Team Y], who boast more than 120,000 YouTube channel subscribers, cooperate with the draft! The youth girls story of three high school girls aiming for the top of laughter with laughter and tears !!
cast
Yayoi Sakamoto: Ayasa Ito Yomogi Takahashi: Aimi Yuzu Hosono: Mikoi Sasaki
Related Links
[Official site] https://gekkan-bushi.com/comics/teppen/