Kanon Takao & Sora Tokui's "true companion" accelerating flirting and serious drama towards the end
Special Feature / Column December 22, 2021 (Wednesday) 19:00
Kanon Takao & Sora Tokui's "true companion" accelerating flirting and serious drama towards the end
(C) Zappon / Yasumo / KADOKAWA / True Companion Production Committee
In the TV anime "Because I was kicked out of the brave party if I wasn't a true companion, I decided to slow down in the frontier" (abbreviated as "true companion"), the former hero Red was with Tomboy Princess Litt. A fantasy that leads a second life while running a herbal shop. Sister Rooty and others visit under Red and Litt, who live in harmony with each other, and a conspiracy over mysterious power and protection becomes clear.
Kanon Takao, who plays the role of the heroine Litt, and Sora Tokui, who played the role of Nao, the half-elf who watches over Litt, talk about the story after appearing on the 9th "Anime Hack TV" (delivered on December 4, 2021). heard. (Interview / Composition: Kotaro Gosho / Anime Hack Editorial Department)
――How was it co-starring on "Anime Hack TV"?
Takao: First of all, I was happy to meet Mr. Soramaru (nicknamed Mr. Tokui) for the first time in a long time. I have been indebted to other works for a long time, and this was the first time I talked about "a true companion." It was refreshing to comment while watching the animation video on the program, and I was able to spend a happy time enjoying it with everyone who was watching it.
Tokui: The commentary project was the first in the program. It's so much fun that I want to do it every time. Since the dubbing was separate from Kanon-chan and I couldn't understand each other's situation, I was happy to hear various stories.
Litt (CV: Kanon Takao)
(C) Zappon / Yasumo / KADOKAWA / True Companion Production Committee
――As mentioned in the program, Litt played by Mr. Takao was a character with a lot of expressions and various faces.
Takao: Litt's facial expressions really changed, such as the gap between when he was fighting and when he was out, and there were some parts that were difficult to play. Anyway, I was conscious of expressing various emotions, but even so, when the recording started, I was really worried about how much I could act in the scene of the SD character whose tension suddenly changed. It's the way it is now when people say "do more".
Another thing that impressed me in the direction was that in the scene with Red and two people alone, I was asked to play with a sweet and sour feeling while being conscious of the innocence. When I felt that kind of atmosphere in myself, the sound director Abe (Nobuyuki) always said, "Like, you're young" (laughs). I was able to relax and perform because I was able to create an atmosphere that was easy to do, rather than teamwork that was perfect for "true friends."
Nao (CV: Tokui Aozora)
(C) Zappon / Yasumo / KADOKAWA / True Companion Production Committee
-I think Nao played by Mr. Tokui was one of the characters who played the part of "slow life" in the title of this work.
Tokui: As one of the wonderful residents, I wish I could brighten up the everyday life of Red and Litt. Nao is a really nice person, I love the people around me, I also care about the store, and I was happy if such a person was actually in the neighborhood, and I played with the image that I definitely want to get along with the neighborhood. The opening and ending are also very intimate with the atmosphere of the work, and I personally really like it.
――It was said in the program that Nao liked the sauna, and Mr. Tokui himself liked the sauna and felt a sense of intimacy. Please tell us what makes the sauna so attractive.
Tokui: After all, it's best to warm your body. There is a place where we are actually doing the idea of ​​making the sauna a nice scent by using the herbs that Red was doing in "True Companion". When I entered, it felt very good, and just looking at the depiction of the work made me feel like I was (laughs).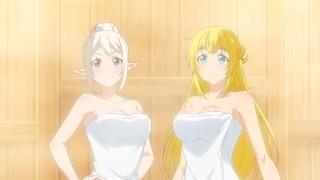 (C) Zappon / Yasumo / KADOKAWA / True Companion Production Committee
–In the sauna scene of Episode 4, "Reason for Honey Wine," there was also an exchange between Litt and Nao. How was it to see it again in the commentary of the program?
Takao: Before Litt and Nao entered the sauna room where Red was, I was really wondering what kind of interaction they had (laughs).
Tokui: Certainly (laughs)
Takao: Isn't it a rare situation for a woman to enter a sauna with a man? Lit, who has the courage to approach her positively, is cute, and she also likes her relationship with Nao, who supports it.
(C) Zappon / Yasumo / KADOKAWA / True Companion Production Committee
――Please tell us the points of interest toward the end of the game.
Takao: More and more talk about the blessing of Red's younger sister, Rooty, made me think about the happiness of being able to do what is normal. Lit and Red are getting closer to each other toward the final round, and there is also a development that gets very hot. When I read the script of the final episode, there were many scenes where I felt like tears, and in addition to the two flirting, I hope you will pay attention to the serious drama related to blessing.
Tokui: As Nao, who has been watching over the two of them well, I am very concerned about the change in the relationship between Red and Litt due to Rooty's arrival in the city. I want everyone in the city to come together and watch over the future of the two.
――Finally, please tell us about the existence that you can call a "true companion" for the two of you.
Tokui: I talked about the sauna today, so when it comes to that, when I'm in the sauna, I sometimes talk to an aunt who I don't know at all, so I talk with each other and watch variety shows on TV together. There is (laughs). Perhaps I never meet after that, and I really like the mysterious sense of unity because it's a once-in-a-lifetime meeting. Sometimes I think that the aunts who happen to meet at the same place and time in that space are "true companions."
Takao: I think my "true companion" is my brother (editor). Watching the anime that my brother was recording was the reason I entered this world, and I still get consultations about work and school. I'm so close that I sometimes go home and talk for three hours, and I'm grateful that I'm really supported.
Editor's Note: Takao's older brother is Sonosuke Takao, a composer and pianist. He is involved in many music productions such as anime and games.
* Please also watch "Tokui Aozora no Anime Hack TV # 09" featuring Kanon Takao as a guest.
Anime Hack Official Twitter, Follow & RT Present Campaign

Kanon Takao, Sora Tokui autographed Shikishi, 1 person

December 23-January 23, 2022 23:59

1. Follow Anime Hack Official Twitter.
2. RT (retweet) the tweet of the present announcement tweeted by the official Twitter. Please be careful not to unfollow until the end of the campaign.
Click here for target tweets ⇒ https://twitter.com/animehackcom/status/1473595426121134080
3. Winners will receive a DM (Direct Message) from their official twitter account after the campaign ends.
Related page Click here for the official YouTube channel of Anime Hack
Anime hack editorial department
Anime Hack TV Official YouTube Channel
[Introduction of the author]
Anime Hack Editorial Department (Anime Hack Henshubu)
Anime Hack Official Special feature of "Anime Hack TV" distributed on YouTube channel! Interviews with guest performers are being delivered in sequence!
Work information
I was kicked out of the brave party if I wasn't a true companion, so I decided to slow down in the frontier, updated May 21, 2021.


Work information Event information
I was kicked out of the brave party if I wasn't a true companion, so I decided to slow down in the frontier.
Broadcast time Fall 2021 Anime
Production company
Wolfsbane, Studio Flood
Staff information
[Original] Zappon [Original Illustration] Yasumo [Director] Makoto Hoshino [Series Composition] Makoto Hoshino [Character Design] Ruriko Watanabe If you're not a true companion, you've been kicked out of the brave party, so slow life in the frontier. I made it
Synopsis
"You are not a true companion." The hero Red, who can't keep up with the battle on the front line, is banished from the hero's party by being handed over by his fellow sage. "──Hmm, I wasn't happy at that time." Not knowing that the wise men were in a big panic because of the loss of Red, the person in question was excited to open a herb shop in a remote area … "I wonder if I can work at this shop too (living in)". Suddenly, a former companion, the princess, visits her own house !?
cast
Red: Ryota Suzuki Rit: Kanon Takao Rooty: Naomi Ohzora Yaland Lara: Sora Amamiya Ares: Taku Yashiro Albert: Kohei Amasaki Gonz: Masahiro Yamanaka Tanta: Yu Serizawa Nao: Sora Tokui Mid: Ken Sanshin
Related Links
[Official site] https://shinnonakama.com/
Event information / ticket information
Starts at 14:00 on Sunday, March 7, 2021
"Zappon, Yasmo" autograph session KADOKAWA light novel EXPO2020
Cast: Zappon, Yasmo
"Because I was kicked out of the brave party if I wasn't a true companion, I decided to slow down in the frontier."
Cast: Ryota Suzuki, Kanon Takao, Naomi Ohzora
(C) Zappon / Yasumo / KADOKAWA / True Companion Production Committee