The best handsome girlfriend! The TV anime "Kawaii dake ja Na Shikimori-san" teaser visuals and casts have been released! 365 days "Daily Voice" also started
The best handsome girlfriend! The TV anime "Kawaii dake ja Na Shikimori-san" teaser visuals and casts have been released! 365 days "Daily Voice" also started
October 01, 2021 18:000
Campaign Voice Actor New Information 2022 Spring Anime
The best handsome girlfriend! The TV anime "Kawaii dake ja Na Shikimori-san" teaser visuals and casts have been released! 365 days "Daily Voice" also started
It has been decided that the TV anime "Kawaii dake ja Na Shikimori-san" will start broadcasting in April 2022. Information on teaser visuals, casts, and Twitter campaigns has been released.
"Kawaii dake ja Na Shikimori-san" by Keigo Maki is a popular manga that won the 1st place in the Magapoke general election and the 5th place in the next Manga Award (web category). It is a romantic comedy depicting Izumi, a high school boy with an unfortunate constitution, and Shikimori, who is usually pretty and cute, but when Izumi becomes a pinch, he transforms into a "good-looking girlfriend".
This time, the start of broadcasting was decided in April 2022, and the teaser visual was released. It was also revealed that Saori Onishi will play "Shikimori-san" and Shuichiro Umeda will play Izumi. Character introductions and cast comments have also arrived.
Character introduction, cast comment

■ Shikimori CV. Saori Onishi
A second year high school girl dating Izumi-kun. She is usually very cute and kind, but when it comes to Izumi-kun, she has a surprising side !? I love Izumi-kun.

This is Saori Onishi, the guardian of the ceremony!
She didn't think she was … so she jumped up when it was decided, but since she left it to me, I want to do my best to deliver a wonderful Shikimori-san to everyone. think. I want you to see a lot of the charm of Shikimori-san, not only cute but also cool! !!
It's too cute … Izumi-kun and Shikimori-san's relationship.
Stay tuned for the broadcast!
■ Izumi CV. Shuichiro Umeda
A boy in the second year of high school who is dating Shikimori. He is unhappy and tends to get into trouble, but he has a positive personality that does not dent in any misfortune. I love Shikimori-san.


I'm thrilled when I'm reading, I'm warm, and sometimes I'm sad …
Above all, I love this work, which is full of kindness.
I'm really happy to be involved in anime as Izumi-kun.
I'm full of the desire to meet everyone soon.
Shikimori-san and Izumi-kun are loved and watched by many readers.
I will do my best to deliver the wonderful appearance of the two in the anime! I look forward to working with you!
Main staff information
The director is Ryota Ito of "My Senpai Is Annoying Juniors", the series composition is Yoshimi Narita of the "Pretty Cure" series, and the character design and animation director is "NEW GAME!" Will serve.


365 days a day turning voice "Mai Nichi Shikimori-san" has started!


Starting today, October 1st, a special project to deliver Shikimori's voice throughout the year has started on Twitter.
Chatter! It works! You can enjoy the original scene video and daily message voice from Mr. Shikimori for 365 days. Follow the official anime Twitter and listen to the cute and cool voice of Shikimori every day.
Anime Official Twitter: https://twitter.com/anime_shikimori
We are holding a Twitter campaign where you can win the newly drawn illustrations!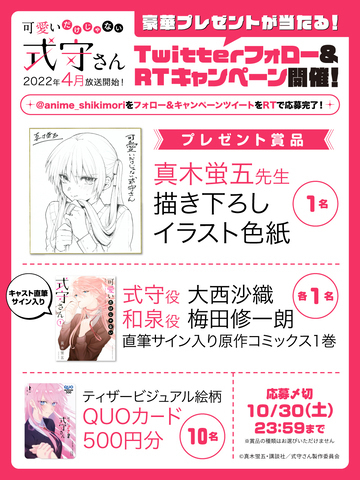 To commemorate the start of broadcasting in April 2022, we will hold a Twitter follow & RT campaign to win luxurious gifts. Follow the official anime Twitter and RT the target tweets during the campaign period to apply.
● Application period
Until 23:59 on Saturday, October 30, 2021
● Prizes
・ Illustration Shikishi drawn by Keigo Maki for 1 person
・ Ceremony guardian Saori Onishi Autographed original comics Volume 1 for 1 person
・ Izumi role Shuichiro Umeda Autographed original comic volume 1 person
・ Teaser visual design QUO card for 500 yen for 10 people
* You cannot choose the type of prize.
● How to apply
After following the official anime Twitter (@anime_shikimori), prizes will be presented by lottery from those who RT the application tweets posted around 18:00 on October 1st (Friday).
● Notes on applying for gifts
* A Twitter account is required to apply for this gift. If your account is frozen or deleted at the time of the lottery, or if you are unfollowed by this account, it will not be applicable.
* Applications are limited to one account per person for each item. Please note that if you apply from multiple accounts by one person, it will be invalidated.
* Winners will be contacted via a direct message on Twitter. Please note that we will not contact anyone other than the winners.
* Applications and shipments are limited to Japan.
* Prizes will be shipped by Front Works Co., Ltd.
* Prizes will be shipped after November 2021.
* We will pay close attention to the packaging, but please note that we will not accept returns or exchanges even if the product is damaged due to an accident during shipping.
* The personal information provided will not be used for any purpose other than shipping prizes.
[Work information]
■ TV anime "Shikimori-san, not just cute"
Broadcast from April 2022!

The best "good-looking girlfriend" appears!
Izumi-kun, a high school boy with an unfortunate constitution, is her classmate Shikimori-san.
She has a nice smile and is kind, and she always looks happy when she is with Izumi-kun.
She's pretty, cute, and loving, but
When Izumi-kun gets into a pinch …
The coolest, transformed into a "good-looking girlfriend"!
With Mr. Shikimori who is full of cuteness and coolness
Izumi-kun and her good friends will never stop having fun everyday!
A romantic comedy with 1000% preciousness has finally started!
The popular romantic comedy "Kawaii dake ja Na Shikimori-san" (serialized in Kodansha Magazine Pocket), which has sold over 2.1 million copies of comics volumes 1 to 9 and has received over 3 million likes on Twitter, is finally on TV. Transformed. The production is in charge of the video studio, and the attention staff gathers together! The director is Ryota Ito from "My Senpai Is Annoying Juniors", the series composition is Yoshimi Narita from the "Pretty Cure" series, and the character design and animation directors are "NEW GAME!" 』Ai Kikuchi serves.
Even in TV animation, pounding & chest Kyun MAX! Keep an eye on "good-looking girlfriend"!

Original: Keigo Maki (serialized in Kodansha's "Magazine Pocket")
Director: Ryota Ito
Deputy Director: Shohei Yamanaka
Series composition: Yoshimi Narita
Character design: Ai Kikuchi
Animation production: Video studio

Shikimori: Saori Onishi
Izumi: Shuichiro Umeda
[Original information]
Serialized in Kodansha "Magazine Pocket". Comics 1-9 volumes are on sale.
The latest 10 volumes will be released on October 8, 2021 (Friday)!
Written by: Keigo Maki
© ︎ Keigo Maki / Kodansha / Mr. Shikimori Production Committee