Spring animation "Shikimori-san, not just cute" Nobuhiko Okamoto and others will be added to the cast! Voting for the original voice drama is until January 12th
Spring animation "Shikimori-san, not just cute" Nobuhiko Okamoto and others will be added to the cast! Voting for the original voice drama is until January 12th
January 07, 2022 18:36
The TV anime "Kawaii dake ja Na Shikimori-san" will start broadcasting on Saturday, April 2, 2022. Additional character cast and theme song information has been released.
Keigo Maki's "Kawaii dake ja Na Shikimori-san" is a popular manga that won the 1st place in the Magapoke general election and the 5th place in the "Next Manga Award" web category. It is a romantic comedy depicting Izumi, a high school boy with an unfortunate constitution, and Shikimori, who is usually pretty and cute, but when Izumi becomes a pinch, he transforms into a "good-looking girlfriend".
⇒ The best handsome girlfriend! The TV anime "Kawaii dake ja Na Shikimori-san" teaser visuals and casts have been released! 365 days "Daily Voice" also started
TV animation will start broadcasting every Saturday at 2:00 pm from April 2, 2022 on the ABC TV / TV Asahi affiliated 24 stations nationwide "ANiMAZiNG !!!" frame. In addition to the key visuals, additional characters and casts have been announced.
Also, voting for the original voice drama campaign is being held until around noon on January 12 (Wednesday), so be sure to participate.
[Additional character cast]
Following Saori Onishi as Shikimori and Shuichiro Umeda as Izumi, Misato Matsuoka, Rina Hidaka, and Nobuhiko Okamoto will be added to the cast!
■ Nekozaki CV. Misato Matsuoka
Shikimori's friend and classmate. She is a cheerful and energetic athletic girl with a friendly personality.
She smiles at the relationship between Shikimori-san and her Izumi-kun, and she sometimes makes fun of her.

I am very happy to be able to participate in a wonderful work with 1000% preciousness! !!
I will do my best to convey 1000% of the charm of cute Nekozaki-chan, who is energetic, cool, good at excitement, kind and considerate!
Come and tell the story of youth, not just Kyun Kyun, who has a lot of individuality, including Shikimori-san and Izumi-kun! !! Please enjoy! !! !!
■ Honey CV. Rina Hidaka
Shikimori's friend and classmate. She has an expressionless and self-paced and elusive personality, but she looks closely at her surroundings.
She is an indoor girl who is not good at exercising.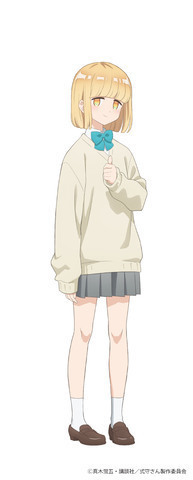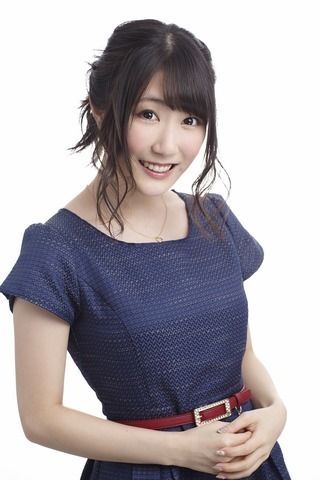 Yui Yaman is a child who doesn't show her emotions so much and has a unique atmosphere, but she is a kind-hearted girl who looks closely at her surroundings.
She also loves the occasional bittersweet comics!
Ah … I'm really happy to see Shikimori and Izumi's two most cute people nearby …!
As Yui Yaman, I would like to warmly watch over them!
I will do my best after dubbing! Please look forward to the broadcast.
■ Inuzuka CV. Nobuhiko Okamoto
Izumi-kun's friend and classmate. He is a serious boy who is obedient to himself, likes to play, but also studies well.
He is seen as a rival by Mr. Shikimori.


The dog bundle has an insanely cute inside.
The character has a lot of facial expressions and is cool, and sometimes it's broken, so I hope I can make the difference!
* All original sic
■ Determined by voting! Original voice drama campaign
A campaign will be held as a monthly special project until the broadcast!
Two short episodes carefully selected from the original are selected every month, so use the Twitter survey function to vote for the episode you want to listen to the voice drama.
Episodes with a large number of votes will be released during voice drama and anime broadcasting.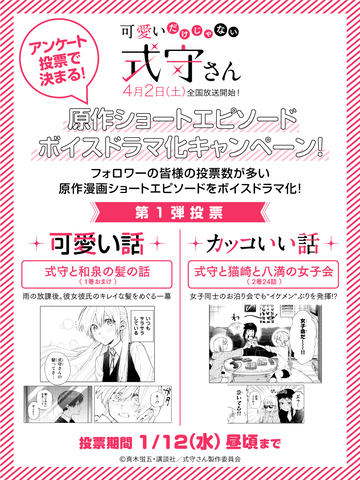 ▼ 1st voting episode
Cute story: Shikimori and Izumi's hair story (Volume 1 bonus)
Cool story: Shikimori, Nekozaki and Yaman's Girls' Association (Volume 2, Episode 24)
The first vote is until around noon on Wednesday, January 12th. The second is scheduled to be held in February, and the third is scheduled to be held in March.
[Work information]
■ TV anime "Shikimori-san, not just cute"


ABC TV / TV Asahi affiliated 24 stations nationwide "ANiMAZiNG !!!" frame
From April 2, 2022, every Saturday from 2:00 pm
* Subject to change due to circumstances.

Original: Keigo Maki (serialized in Kodansha's "Magazine Pocket")
Director: Ryota Ito
Deputy Director: Shohei Yamanaka
Series composition: Yoshimi Narita
Character design: Ai Kikuchi
Animation production: Video studio

Shikimori: Saori Onishi
Izumi: Shuichiro Umeda
Nekozaki: Misato Matsuoka
Yaman: Rina Hidaka
Inubun: Nobuhiko Okamoto

The best "good-looking girlfriend" appears!
Izumi-kun, a high school boy with an unfortunate constitution, is her classmate Shikimori-san.
She has a nice smile and is kind, and she always looks happy when she is with Izumi-kun.
She's pretty, cute, and loving, but
When Izumi-kun gets into a pinch …
The coolest, transformed into a "good-looking girlfriend"!
With Mr. Shikimori who is full of cuteness and coolness
Izumi-kun and good friends will never stop having fun everyday!
A romantic comedy with 1000% preciousness has finally started!
The popular romantic comedy "Kawaii dake ja Na Shikimori-san" (serialized in Kodansha Magazine Pocket), which has sold over 2.1 million copies of comics volumes 1 to 9 and has received over 3 million likes on Twitter, is finally on TV. Transformed. The production is in charge of the video studio, and the attention staff gathers together! The director is Ryota Ito from "My Senpai Is Annoying Juniors", the series composition is Yoshimi Narita from the "Pretty Cure" series, and the character design and animation directors are "NEW GAME!" 』Ai Kikuchi serves.
Even in TV animation, pounding & chest Kyun MAX! Keep an eye on "good-looking girlfriend"!
[Original information]
Kodansha "Magazine Pocket" serialization
Written by: Keigo Maki
Comics Volumes 1 to 11 are on sale
© ︎ Keigo Maki / Kodansha / Mr. Shikimori Production Committee