"My Isekai Life in a Different World" Hikaru Tono, Mai Kanno and 6 others will appear in the role of slime.
News Friday, January 7, 2022 22:00
"My Isekai Life in a Different World" Hikaru Tono, Mai Kanno and 6 others will appear in the role of slime.
(C) Shinkoshoto / SB Creative / Reincarnated Sage Production Committee
Hikaru Tono, Mai Kanno, Haruna Mikawa, Erisa Kuon, in "The Life of a Reincarnated Sage in Another World-Getting a Second Occupation and Becoming the Strongest in the World", which is a TV animation of Shinkoshoto's fantasy novel. Nichika Omori and Miharu Hanai will appear. The first promotional video and key visuals have been released, and the main staff's lineup has also been clarified.
In the same work, Yuji Sano (CV: Chiaki Kobayashi), who works for a black company, is suddenly summoned to another world as an unfavorable occupation "Tamer" that is not suitable for battle, but due to his ability, it is the second. Acquired the profession "Sage". With overwhelming power, he draws a figure that makes a big success even though he is unaware.
All of the casts announced this time will be in charge of the role of slime, who will become friends by being tamed by Yuji and will give him various powers. Tono is a simple sura, Kanno is a sura patch with an eyepatch, Mikawa is a mayusura with thick eyebrows, Kuon is a surahappa with leaves on his head, Omori is a beard with a fine beard, and Hanai is a cross wound on his cheek. Plays a certain Pekesla. In addition, the six people will form a unit "Sura-chanzu △" and will carry out public relations activities for the same work through SNS and other media. A variety video (https://youtu.be/em0C3z1Gjk0) entitled "#Surachubu" is also available on YouTube.
In the first PV, Yuji shoots a powerful magic and is surprised by people in another world, and a battle scene where he confronts a huge enemy with that power is recorded. Friends such as Dryad (Azumi Waki) and Proud Wolf (Wataru Takagi) will also appear with voice. The key visual is an illustration of Yuji soaring high in the sky with slimes and Proud Wolf.
The main staff reunited with the faces involved in "300 years after defeating slime, I reached level MAX without knowing it." Keisuke Kojima will concurrently serve as the director and character design, Kiyotaka Suzuki will be the assistant director, Naohiro Fukushima will be in charge of the series composition, and REVOROOT will be in charge of animation production. In addition, Norihito Saitama will serve as joint character design and animation director.
"My Isekai Life in a Different World-I got a second profession and became the strongest in the world-" will start broadcasting in 2022.
Below are comments from the six cast members.
[Hikaru Tono (role of Sura)]
I will play Sura!
Noh weather fills my head with rice! These cute slimes are tamed by Yuji and bravely confront the enemy and make an outstanding performance …!
Of course, there are plenty of healing points that will make you feel relaxed, so I hope you enjoy it together with Yuji's relentless Musou scene. I will do my best in the activities of "Sura-chanzu △"!
[Mai Kanno (role of Surapatch)]
I'm Mai Kanno, who is in charge of the slime and sura patches that are patching (eyepatch)!
When I heard that she passed the audition, she jumped and rejoiced like slimes (laughs).
Of course, Yuji's fighting scene is a must-see for "Reincarnated Sage", but the healing part of slime and Proud Wolf is also a highlight! Look forward to a great adventure in a different world!
[Haruna Mikawa (role of Mayusura)]
This is Haruna Mikawa, who plays the role of Mayusura!
The slimes tamed by Yuji are doing their best. Also, I hope you can see Mayusura's personality and her growth as she adventures.
After all, the battle scene is refreshing and it feels great to watch. Please enjoy the healing and exhilaration! !!
[Erisa Kuon (role of Surahappa)]
I'm Erisa Kuon, who will play Surahappa. I wish I could have a fun adventure with everyone in Surahappa and Slime, which is a little more natural than other slimes! I'm looking forward to the ride quality on the back of Proud Wolf. I hope that "Sura-chan's △" will make the work more and more exciting! It would be great if you could pay attention to the activities of the slimes who are as cool as Yuji (laughs)!
[Nichika Omori (role of Higesura)]
From the time of the audition, I was thinking "I want to do this bearded child among slimes!", So I'm very happy! I would like to make the character even more loved by making the most of the charm point beard and the habit of talking like "-desuzo". The slimes are a big success! Please look forward to it !!
[Miharu Hanai (role of Pekesura)]
A lot of slimes appear in this work, so I cherished Pekesla's courageous and vigorous naughty elementary school boyishness so that it would be more individual and memorable! The child with a cross on the cheek is Pekesura ♪ The slimes will heal any serious development! Please enjoy a little special relationship with Yuji and others 😊
Work information
Life in a different world of the reincarnated sage-I got a second profession and became the strongest in the world-Updated January 6, 2022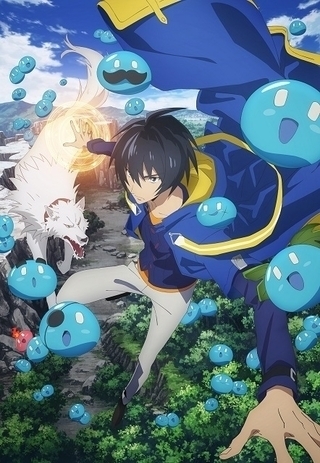 Work information Event information
My Isekai Life in a Different World-I got a second profession and became the strongest in the world-
Broadcast time 2022 animation
Production company
REVOROOT
Staff information
[Original] Progressive Islands ("GA Bunko" SB Creative) [Original Illustration] Fuka Fuka [Director / Character Design] Keisuke Kojima [Assistant Director] Kiyotaka Suzuki [Series Composition] Naohiro Fukushima [Co-Character Design / Animation Director] Norihito Saitama [Animation Director] Keisuke Goto [Color Design] Satoshi Takezawa [Art Director] Aiko Taira (Studio Naya) [Photo Director] Shunsuke Kobayashi (Sanjigen)
See more Reincarnated Sage's Life in Another World-I got a second profession and became the strongest in the world-
Synopsis
Suddenly, Yuji Sano, a black company slave summoned to another world! His profession in a different world is "Tamer". An unlucky job that makes it difficult to become an adventurer. However, thanks to his companion Slime, he gains various magic and a second profession, the "Sage"! Yuji gained overwhelming power, but he was unaware of his strength …? With the strongest power, unawareness and unmatched!
cast
Yuji: Chiaki Kobayashi Dryad: Azumi Waki ​​Sura: Hikaru Tono Sura Patch: Mai Kanno Mayusura: Haruna Mikawa Sura Happa: Elisa Higesura Kuon: Nichika Omori Pekesura: Miharu Hanai Proud Wolf: Wataru Takagi
Related Links
[Official site] https://tenseikenja.com