TV animation "Shadow House" 2nd production decision & special news release! Gothic mystery starring Yu Sasahara and Akari Kito
TV animation "Shadow House" 2nd production decision & special news release! Gothic mystery starring Yu Sasahara and Akari Kito
September 13, 2021 11:220
There is a video 2021 Spring animation new work information
TV animation "Shadow House" 2nd production decision & special news release! Gothic mystery starring Yu Sasahara and Akari Kito
The second production of the TV anime "Shadow House", which was broadcast from April 2021, has been decided.
"Shadow House" is a popular manga that Somato started serializing in Weekly Young Jump in 2018. The unique world of the faceless "shadow clan" and the caretaker "living dolls" who live in a mysterious Western-style building is attractive. During the TV anime broadcast period, the character's name entered the trend of twitter every week, which attracted a lot of attention.
⇒ TV animation "Shadow House" will be distributed on Amazon Prime Video and others! Ink painting PV released by sumi-e artist, Okato at AnimeJapan2021!
https://japaneseanime3315.seesaa.net/article/485098493.html?1641427515
About such "Shadow House", the production of the second period of TV animation was announced at the special distribution event held on September 11, 2021.
A special PV with new cuts and a jacket for Blu-ray & DVD Volume 4 to be released on September 29 are also released!
Stay tuned for more details on the second term.
[Phase 2 Teaser PV]
Blu-ray & DVD Volume 4 Jacket
[Product information]
■ Shadow House 4
Released on September 29, 2021 (Wednesday)
Recorded episodes: Episodes 7 and 8
・ Blu-ray full production limited edition
¥ 7,700 (tax included) ANZX-13257-13258
・ DVD full production limited edition
¥ 6,600 (tax included) ANZB-13257-13258

・ Character design Jacket drawn by Chizuko Kusakabe (portrait style specification)
・ Original picture / setting document collection
・ 4P manga drawn by the original author Somato
・ Color illustration card drawn by the original author Somato
* Benefits are subject to change.
Until September 17th! Special delivery event missed delivery on sale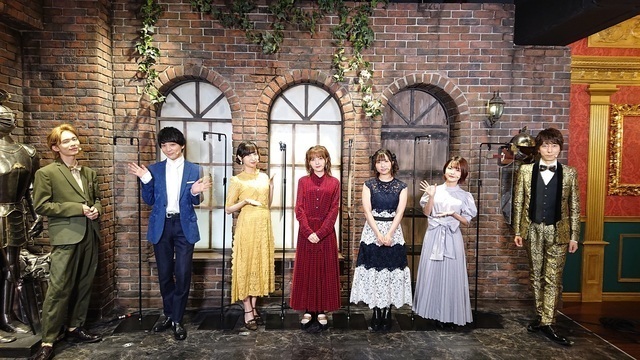 Overlooked distribution of TV animation "Shadow House" special distribution event is on sale.
It is a special reading drama that expresses the world view of "Shadow House", so please take a look.
For those who purchase the BD / DVD "Shadow House", an after-talk by the cast will be included.
【event information】
■ "Shadow House" special delivery event
Starring: Akari Kito, Yu Sasahara, Kodai Sakai, Ayane Sakura, Reiji Kawashima, Shino Shimoji, Wataru Hatano
Sales URL: https://eplus.jp/shadowshouse-anime/
Sale period: Until 20:00 on September 17, 2021 (Friday)
Archive viewing period: Until 23:59 on September 17, 2021 (Friday)
Ticket: General sale 3,800 yen (tax included)
* If you have purchased BD / DVD "Shadow House 1", please apply from the enclosed priority application ticket.
If you apply for a ticket with a priority application ticket, you can purchase it for 3,300 yen (tax included) and enjoy after-talk by casting.
Ⓒ Somato / Shueisha / Shadow House Production Committee