"MANKAI STAGE" A3! "" Ryugi Yokota, Sho Jinnai and other cast members' New Year's comment special video will be screened before the main story
Event Thursday, December 30, 2021 20:00
"MANKAI STAGE" A3! "" Ryugi Yokota, Sho Jinnai and other cast members' New Year's comment special video will be screened before the main story
(C) 2021 MANKAI MOVIE "A3!" Production Committee
"MANKAI MOVIE" A3! "-SPRING & SUMMER-" New Year's comment special video released at theaters nationwide will be screened for a limited time.
"MANKAI STAGE" A3! "" Is a stage version of the media mix project "A3!" Based on the handsome actor training game "A3!". In the sacred place of theater, Velvet Town, young members of the crushing theater company "MANKAI Company" are divided into four groups, "Spring", "Summer", "Autumn" and "Winter", and struggle to rebuild the theater company. The movie "MANKAI MOVIE" A3! "" By the stage version cast is composed of two parts, and "AUTUMN & WINTER" is scheduled to be released in March 2022.
New Year's comment Special video is Ryugi Yokota as Sakuya Sakuma, Reiya Takahashi as Masumi Usui, Sho Jinnai as Tenma Sumeragi, and Yuki Rurikawa. ) The cast of Harugumi and Natsugumi will appear, and will be screened before the start of the main story on January 1-6, 2010.
In addition, on December 30, 2009 and January 6, 2010, a silent cheering screening will be held. It is possible to bring in cheering goods, and it is in the form of applause and clapping.
Work information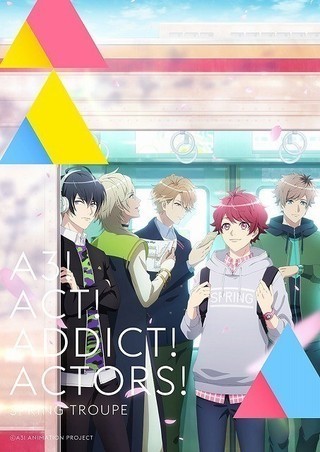 Work information Event information
A3! SEASON SPRING & SUMMER
Broadcast time Spring 2020 Anime
Production company
P.A.WORKS, Studio 3Hz
Staff information
[Original] Liber Entertainment [Character draft] Ryo Fujiwara [Director] Shinto Nakazono, Keisuke Shinohara [Series composition] Naoki Hayashi [Character design / animation director] Mariko Komatsu [Art design] Ju Ishiguchi [Costume design] Ryo Akizuki [ Art Director] Hiroko Tanabe (Kusanagi) [Color Design] Yuko Tsumori [HOA] Tri-Slash
See more A3! SEASON SPRING & SUMMER
Synopsis
"Kantoku! Let us bloom …". Velvet town, a suburb of Tokyo. There is a street called "Velvet Way" in this town, and it is a sanctuary for members of the theater companies where many theater companies are based. You who landed here relying on a letter that arrived suddenly. You, a former stage actor, met … [・ Covered with debt!・ Zero customers!・ Only one member of the theater company! ] A crushing troupe that has lost its former glory! You, who had to rebuild the theater company for some reason, will be appointed as the director and "general director" of the theater company …?
music
[OP] A3ders! "Act! Addict! Actors!"
[ED] Spring group / Summer group "Home / Orange Heart"
cast
Sakuya Sakuma: Kodai Sakai Masumi Usui: Yusuke Shirai Tsuzuku Minaki: Kotaro Nishiyama Toru Kayagasaki: Shintaro Asanuma Citron: Masashi Igarashi Tenma: Takuya Eguchi Rurikawa Sachi: Shunichi Toki Sakagura: Yoshitaka Yamaya Yoshitaka Yamaya : Ren Ozawa
See more
Related Links
[Official site] https://www.a3-animation.jp/