"Attack on Titan The Final Season Part 2" PV 2nd release
News Wednesday, December 22, 2021 19:30
"Attack on Titan The Final Season Part 2" PV 2nd release special omnibus rebroadcast from January 6


Why Ellen fights-the second PV released!
(C) Hajime Isayama / Kodansha / "Attack on Titan" The Final Season Production Committee
The second PV of the TV anime "Attack on Titan The Final Season Part 2" has been released.
The "Attack on Titan" series is set in a world where people are pushed into a huge wall by suddenly appearing giants, and the hero Ellen (CV: Yuki Kaji) and others unfold the death battle and the truth hidden in the world. Draw. In the final edition of the 4th term "The Final Season", MAPPA will be in charge of animation production in place of WIT STUDIO in the 1st to 3rd terms. "The Final Season PART 1" will be broadcast from December 2020 to March 2009, and "Part 2" will be aired from the 76th episode "Condemnation".
The second PV asks, "Why Ellen fights and what she fights for," along with the appearance of Ellen, Reiner and other giants, and human beings colliding and being tossed.


(C) Hajime Isayama / Kodansha / "Attack on Titan" The Final Season Production Committee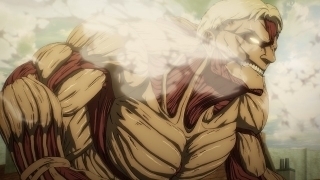 (C) Hajime Isayama / Kodansha / "Attack on Titan" The Final Season Production Committee


(C) Hajime Isayama / Kodansha / "Attack on Titan" The Final Season Production Committee


(C) Hajime Isayama / Kodansha / "Attack on Titan" The Final Season Production Committee


(C) Hajime Isayama / Kodansha / "Attack on Titan" The Final Season Production Committee
Furthermore, on January 6th and 7th, 2010, the 1st to 6th nights of the "Special Omnibus" that summarizes the series so far will be rebroadcast. Rebroadcasts are scheduled for the 1st to 3rd nights at 11:36 pm on the 6th and the 4th to 6th nights at 11:36 pm on the 7th.
"Attack on Titan The Final Season Part 2" will be broadcast on NHK General TV from 12:05 on January 9, 2010. It will be distributed sequentially from noon on January 10, 2010 on dTV, d anime store, GYAO !, Netflix, TELASA, Hikari TV, U-NEXT, Amazon Prime Video and others.

Work information

Work information Event information
Attack on Titan The Final Season Part 2
Broadcast time 2022 winter animation
Production company
MAPPA
Staff information
[Original] Hajime Isayama (published by Kodansha) [Director] Yuichiro Hayashi [Series composition] Hiroshi Seko [Character design] Tomohiro Kishi [Overall animation director] Daisuke Shinuma [Director chief] Atsushi Shishido [Effect animation director] Satoshi Sakai, Taichi Komata [ Color design] Ayako Suenaga [Art director] Kazuo Ogura [Screen design] Yusuke Awawa
See more Attack on Titan The Final Season Part 2
Synopsis
"The giant continued to pursue freedom at all times. He fought for freedom. His name is-Attack on Titan." The truth outside the wall finally revealed and the identity of the giant. Up to this point, humanity has made too great a sacrifice. Nevertheless, they have to keep going. I haven't seen the sea outside the wall, the symbol of freedom, with my own eyes. ――Time has passed, and it has been six years since the first invasion of the "super giant". The Investigation Corps conducts an off-wall investigation outside Wall Maria. "There is a sea over the wall, and there is freedom over the sea. I always believed that …". The sea that human beings in the wall reached for the first time. Is it free to be beyond the endless horizon, or …? The story of Eren Yeager enters a new phase.
cast
Ellen Jaeger: Yuki Kaji Mikasa Ackerman: Yui Ishikawa Armin Arlert: Marina Inoue Connie Springer: Hiro Shimono Sasha Braus: Yu Kobayashi Historia Wraith: Shiori Mikami Jean Kilstein: Kisho Taniyama Reiner Braun: Hosoya Yoshimasa Hanji Zoe: Park Romi Levi: Kamiya Hiroshi
See more
Related Links
[Official site] https://shingeki.tv/final/