"Hiroaka" 6th term, broadcast in the fall of 2010. PV ban approaching the time of full-scale war
News Tuesday, December 21, 2021 12:00
"Hiroaka" 6th term, broadcast in the fall of 2010. PV ban approaching the time of full-scale war


(C) Kohei Horikoshi / Shueisha / My Hero Academia Production Committee
The sixth season of the TV anime "My Hero Academia" will be broadcast from the fall of 2010, and the PV has been released.
The "My Hero Academia" series, which started its first phase in 2016, is set in a world where people have supernatural abilities "individuality", and the main character Deku who inherited the individuality from the No. 1 hero All Might develops heroes. It depicts a figure that fights and grows with friends of the prestigious Yuei High School.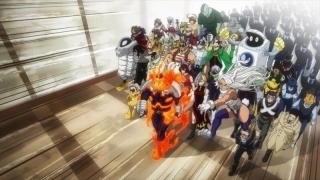 (C) Kohei Horikoshi / Shueisha / My Hero Academia Production Committee


(C) Kohei Horikoshi / Shueisha / My Hero Academia Production Committee


(C) Kohei Horikoshi / Shueisha / My Hero Academia Production Committee
The fifth period ended with a scene where professional heroes such as Endeavor gathered. In the following 6th period, we will enter the "Full War" starting from the 27th volume of the comic, and the time of the full war between the hero and the enemy (villain) is approaching. The curtain rises with Deku's voice saying "The decisive battle is approaching", and the characters "Full-scale war, approaching–", "Awakening of the Demon King" and "Stop" are projected on the heroes with a devilish expression.

Work information

Work information Event information
My Hero Academia (6th term)
Production company
Bonds
Staff information
[Original] Kohei Horikoshi ("Weekly Shonen Jump" Shueisha) [General Director] Kenji Nagasaki [Director] Masahiro Mukai [Series Composition / Screenplay] Yosuke Kuroda [Character Design] Yoshihiko Umakoshi, Hitomi Odashima [Music] Yuki Hayashi My Hero Academia (6th term)
cast
Izuku Midoriya: Daiki Yamashita Katsuki Bakugo: Nobuhiko Okamoto Reihi Ochako: Ayane Sakura Todoroki Shoto: Yuki Kaji Tenya Iida: Kaito Ishikawa Kenjiro Kirishima: Toshiki Masuda Tasuku Hatanaka: Ao Yuki Manhyaku: Marina Inoue Denki Kaminari: Yu Hatanaka Minoru Mineda: Ryo Hirohashi
See more
Related Links
[Official site] http://heroaca.com