OVA for "Strike the Blood", original episode "The Disappearing Holy Lance" & "Strike the Blood IV" will be produced
OVA for "Strike the Blood", original episode "The Disappearing Holy Lance" & "Strike the Blood IV" will be produced
October 07, 2019 11:420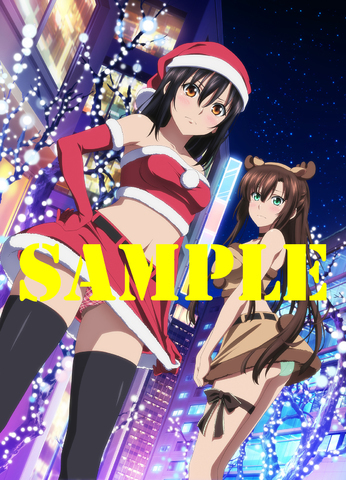 OVA for "Strike the Blood", original episode "The Disappearing Holy Lance" & "Strike the Blood IV" will be produced
The special OVA "Strike the Blood" of the school fantasy work "Strike the Blood", in which the TV series and the OVA series were produced up to the third term, and the OVA 4th term series "Strike the Blood" The production of "Blood IV" has been decided.
"Strike the Blood" is an anime work based on the light novel series by Gakuto Mikumo. An action fantasy depicting the story of the world's strongest vampire and the swordsman girl who monitors him. After the TV anime was broadcast from October 2013 to March 2014, before the OVA from November to December 2015. The second part is on sale. The second OVA series "Strike the Blood II" was released from November 2016 to April 2017, and the new OVA "Strike the Blood III" is released in all five volumes.
This time, it was announced that the special OVA "Strike the Blood" of "Strike the Blood" and the OVA 4th series "Strike the Blood IV" have been decided to be produced.
In the OVA "The Disappearing Holy Lance", the first original episode of this work will be drawn, and many long-awaited scenes of fans will be included.
"Strike the Blood IV" is a total of 6 volumes, and the continuation of the previous work, III is drawn.
In addition, it was also announced that the theme songs of both OVAs will be handled by Kishida Kyodan & THE Akeboshi Rockets as the opening and Yukina Himeragi (CV: Risa Taneda) as the ending. I want to look forward to the follow-up report.
[Latest PV]

[Work information] * Honorific titles omitted
■ Special OVA "Strike the Blood"
■ OVA 4th series "Strike the Blood IV (Force)"
Original: Gakuto Mikumo (published by Dengeki Bunko)
Original illustration: Manyako
Director: Hideyo Yamamoto
Series composition / Screenplay: Hiroyuki Yoshino
Character design: Keiichi Sano, Hideki Furukawa
Sound Director: Jin Aketagawa
Sound production: Magic capsule
Music: ASSUMED SOUNDS
Animation production: CONNECT
OP theme song: Kishida cult & THE Akeboshi Rockets "Akatsuki no Kaleido Blood"
ED theme song: Yukina Himeragi (CV: Risa Taneda) "Dear My Hero"
● The disappeared Holy Lance
Akatsuki Kojo: Yoshimasa Hosoya
Yukina Himeragi: Risa Taneda
Asami Aiba: Asami Seto
Akatsuki Nagisa: Rina Hidaka
Sayaka Kosaka: Ikumi Hayama
Motoki Yase: Ryota Osaka
Natsuki Minamimiya: Hisako Kanemoto
Astarte: Yuka Iguchi
La Folia Rehavine: Saori Onishi
Yuri Hanami: Sayaka Senbongi
Shio Hikawa: Kaede Hondo
Kiriha Himezaki: Yukiyo Fujii
other
● Strike the Blood IV
Akatsuki Kojo: Yoshimasa Hosoya
Yukina Himeragi: Risa Taneda
Asami Aiba: Asami Seto
Akatsuki Nagisa: Rina Hidaka
Sayaka Kosaka: Ikumi Hayama
Motoki Yase: Ryota Osaka
Natsuki Minamimiya: Hisako Kanemoto
Astarte: Yuka Iguchi
Yuri Hanami: Sayaka Senbongi
Shio Hikawa: Kaede Hondo
Glenda: Misaki Watada
other
Kojo and Yukina win the battle with Watler over "Sacred".
Although Kojo became the actual ruler of the island by making Kojinjima his own "night empire," he was spending the same daily life as before.
At that time, the Lion King Organization and the Taishi Bureau decided to conduct a joint investigation into the unexplained marine accident that occurred in the waters around Kamishima.
On the other hand, Kojo woke up with a voice calling himself.
The sight that jumped into his field of vision, which had a vague memory, was a blanket that seemed to be sleeping, and Yukina's face, which blushed her cheeks and appealed with tears.
"Senior … I lost something important …"
[Product information]
■ "Strike the Blood: The Disappearing Holy Lance"
Release date: Scheduled for Wednesday, January 29, 2020
Price: 5,800 yen (excluding tax) (Blu-ray / DVD common price)
・ Illustration jacket drawn by anime copyright
・ Digipak specification, clear case
・ Bonus: Booklet (commentary + short story written by the original author + comic)
・ Bonus CD
OP theme song (TV size): Kishida cult & THE Akeboshi Rockets "Akatsuki no Kaleido Blood"
ED theme song (FULL size): Yukina Himeragi (CV: Risa Taneda) "Dear My Hero"
"Strike the Blood" OVA Series Original Soundtrack
Voice benefits: Audio commentary
Video benefits: Production decision PV, special OVA Blu-ray & DVD CM
■ "Strike the Blood IV" Vol.1
Release date: Wednesday, March 25, 2020
Price: 6,800 yen (excluding tax) (Blu-ray / DVD common price)
・ Illustration jacket drawn by anime copyright
・ Digipak specification, clear case
・ Bonus: Booklet (commentary + short story written by the original author + comic)
Audio benefits: Audio commentary * Only one episode is recorded
Video benefits: Non-telop OP & ED, Volume 1 Blu-ray & DVD CM
* Product specifications, release date, etc. are subject to change without notice.
* Product information after Vol.2 is described in the attached sheet.
[Store benefits]

"Yukina's" Waiting for a Kiss "A3 Clear Poster Drawn by Anime Illustration"


Target stores: Animate, Gamers, Toranoana, Sofmap, Amazon.co.jp, TSUTAYA RECORDS (* excluding some stores) / TSUTAYA Online, HMV, Tower Records
Campaign period: October 6th (Sun) -December 10th (Tue)
A gift for customers who make a reservation within the period and purchase it!
* The benefits will be given at the reserved store when the product is delivered.
* Reservations and purchases made after December 11th (Wednesday) are not eligible. please note.
* Please contact each target store for details.
* On each EC site, carts may be divided into "products with benefits" and "products without benefits". Please be sure to check the privilege notation of each store and each site before purchasing.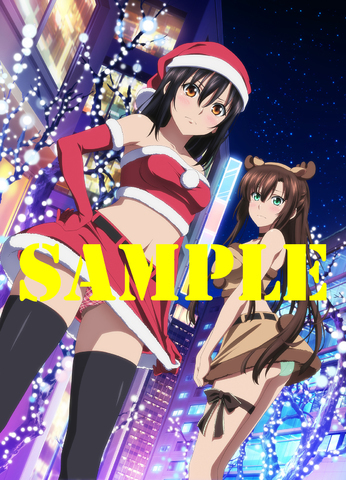 ▲ Animate: Whole volume storage BOX drawn by anime illustrations
(Characters: Yukina, Sayaka)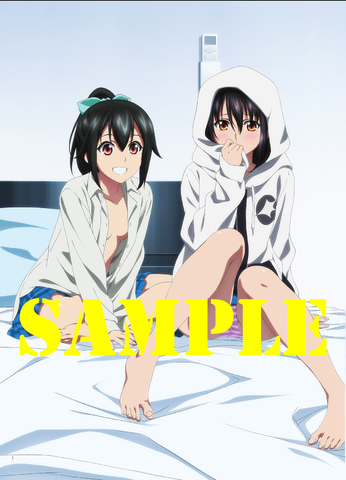 ▲ Gamers: Whole volume storage BOX drawn by anime illustrations
(Characters: Yukina, Nagisa)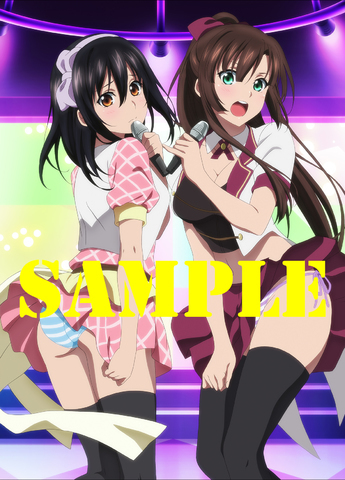 ▲ Toranoana: B2 tapestry extra suede specification drawn by anime illustrations
(Characters: Yukina, Sayaka)


▲ Amazon.co.jp Limited: Whole volume storage BOX drawn by anime illustrations
(Character: Yukina, Asagi)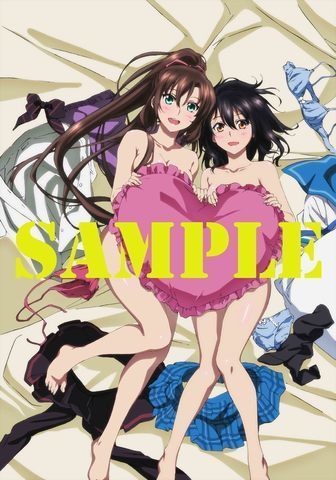 ▲ Sofmap: B2 tapestry extra suede specification drawn by anime illustrations
(Characters: Yukina, Sayaka)


▲ TSUTAYA Online + SHIBUYA TSUTAYA: Whole volume storage sleeve case with duplicate signature
(Character: Yukina, Asagi, duplicate sign: Risa Taneda, Asami Seto)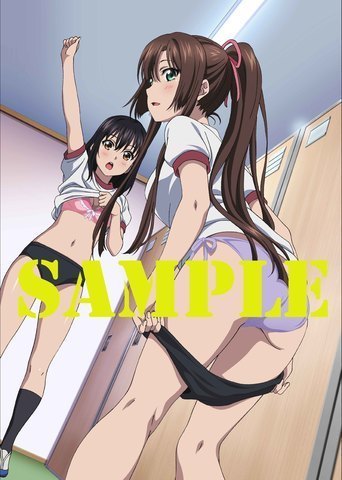 ▲ HMV: Whole volume storage BOX
(Characters: Yukina, Sayaka)
* On each EC site, carts may be divided into "products with benefits" and "products without benefits".
Please be sure to check the privilege notation of each store and each site before purchasing.
【event information】
■ Strike the Blood Screening of the Disappearing Holy Lance
Sunday, December 15, 2019
Scheduled to be held somewhere in Tokyo.
* Follow-up information such as casts will be announced later.
* Event dates are subject to change.
[Original information]
Dengeki Bunko "Strike the Blood" Written by: Gakuto Mikumo / Illustration: Manyako
20 volumes of the already published series are now on sale
(C) 2019 Gakuto Mikumo / KADOKAWA / PROJECT STB OVA