"Lupin III PART6" again "Oshii Lupine" Episode 10 is "Darwin's Bird" written by Mamoru Oshii
News Tuesday, December 14, 2021 18:00
"Lupin III PART6" again "Oshii Lupine" Episode 10 is "Darwin's Bird" written by Mamoru Oshii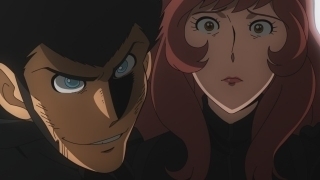 Following the 4th episode, Mamoru Oshii also wrote the 10th episode!
Original: Monkey Punch (C) TMS / NTV
It turned out that Mamoru Oshii is working on the script for the 10th episode "Darwin's Bird" of "Lupin III PART6" following the 4th episode.
This series, which will be the 50th anniversary of the animation, will be composed by Takahiro Okura, a detective novelist who also writes scripts for anime and special effects, as well as a gathering of gorgeous guest scriptwriters. Writer Masaki Tsuji, Taku Ashibe, Akio Higuchi, Kanae Minato, and film director Mamoru Oshii are writing the script for the omnibus episode. The fourth episode of the Oshii script, "The Killers of Diner," which was broadcast on November 6, is a story of a conversation between two male guests and a waitress on the stage of Diner, and after the broadcast, it is reviewed and considered on SNS. It attracted attention such as rising.
And "Oshii Lupine" will appear again in the 10th episode "Darwin's Bird" broadcast on December 18th. "That" bird "is beautiful because it's a bird that flies in the air of authenticity."-Fujiko told the client. The target this time is the "Urvogel fossil" that sleeps in the Natural History Museum. The fossil that clearly shows the evolutionary process of living things had "Iwaku" that shakes its true value. Lupine, who was asked to cooperate by Fujiko, frowns at the suspicion of the request.


Original: Monkey Punch (C) TMS / NTV


Original: Monkey Punch (C) TMS / NTV


Original: Monkey Punch (C) TMS / NTV


Original: Monkey Punch (C) TMS / NTV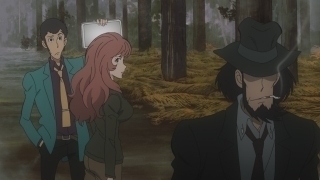 Original: Monkey Punch (C) TMS / NTV
Furthermore, as one of the 50th anniversary projects of "Lupin III" animation, a senryu contest was held. If you follow the official Twitter account (@lupin_anime) and post the senryu related to "Lupin III" with the hashtag "#Lupin senryu", 50 people will be given a "50th anniversary special glitter sticker (not for sale)" by lottery. .. The application period is from December 14, 2021 to January 10, 2010.
Work information Lupine III PART620 Updated September 8, 2009
Work information Event information
Lupine III PART6


Broadcast time Fall 2021 Anime
This week's broadcast
Tokyo
G-GUIDE
TV set
Saturday, December 18
Digital terrestrial broadcasting 24:55 to 25:25 NTV
December 20 (Monday)
BS 23: 30-24: 00 # 9 BS Nippon Television
Online delivery
December 19th (Sun)
Web 1:00 ~ # 9 Nico Nico Live Broadcasting
Production company
TMS Entertainment
Staff information
[Original] Monkey Punch [Director] Eiji Suganuma [Series composition] Takahiro Ogura [Character design] Hiroki Marufuji [Art director] Yumi Matsumiya, Koichiro Bizen, Hiromasa Ogura, Ko Nishizawa, Bonzen Lee, Yusuke Takeda [Color design] Hiromi Miyawaki [Director] Akemi Sasaki [Edit] Masato Yoshitake [Sound Director] Yoji Shimizu [Sound Effects] Hiromasa Kurahashi
See more Lupine III PART6
Synopsis
The stage is London. Lupine's target is a treasure hidden by Raven, a mysterious organization that controls the British government in the shadows-a picture that serves as a clue. Standing Scotland Yard and his MI6. Zenigata police officer who appeared after detecting Lupine's movement. And the detective who appeared before Lupine-the name is Sherlock Holmes! The mysterious , in which the main story of the series composition Takahiro Ohkura and the omnibus episodes of the gorgeous scriptwriters are intertwined, is about to begin!
music
[Main theme] Yuji Ohno & Lupintic Six with Friends "THEME FROM LUPIN III 2021"
cast
Lupine III: Kanichi Kurita Daisuke Jigen: Akio Otsuka Goemon Ishikawa: Daisuke Namikawa Fujiko Mine: Miyuki Sawashiro Zenigata Police Department: Koichi Yamadera Koichi Zenigata Goro: Nobunaga Shimazaki Albert Dandregy: Kenjiro Tsuda Homes: Masato Obara Lily: Sumire Moroboshi
Related Links
[Official site] http://lupin-pt6.com