"The Devil Is a Part-Timer!" 2nd period broadcast in July 2010 Key visual, new PV, additional cast announced at once
News Sunday, December 12, 2021 21:30
"The Devil Is a Part-Timer!" 2nd period broadcast in July 2010 Key visual, new PV, additional cast announced at once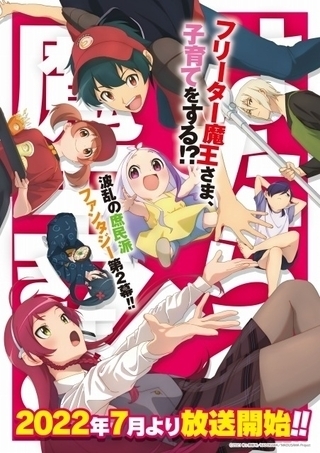 New key visual
(C) 2021 Satoshi Wagahara / KADOKAWA / MAOUSAMA Project
The second season of the TV anime "The Devil Is a Part-Timer!" Will be broadcast from July 2022, and new key visuals, PV, main staff, and additional casts have been announced.
This work is a popular fantasy that depicts Satan, the Demon King who came to Tokyo from a different world after being defeated by a brave man, living in an apartment with 6 tatami mats. The staff members who will handle the second phase, which is the first in about eight years since the first phase, will be directed by Daisuke Tsukushi, Masahiro Yokotani for the series composition, Yudai Iino for the character design, Yoshihiro Takeda for the animation director, and Jin Aketagawa for the sound director. Studio 3Hz is in charge of animation production.


New character Alas Rams
(C) 2021 Satoshi Wagahara / KADOKAWA / MAOUSAMA Project
As already announced, the cast will be continued from the first period by Ryota Osaka (Satan Maou / Sadao Maoku), Yoko Hikasa (Emilia Brave / Emi Yusa), Nao Toyama (Chiho Sasaki) and others. Recently, it has become clear that Hina Kino will be in charge of the role of Alas Rams, a new character that will appear in the second period, and the introduction PV of that character has been released.
The new PV includes a narration manuscript written by the original author, Satoshi Wagahara, and newly recorded character voices by Osaka, Hikasa, and Higashiyama. Many new cuts are also included.


(C)2021 和ヶ原聡司/KADOKAWA/MAOUSAMA Project
(C)2021 和ヶ原聡司/KADOKAWA/MAOUSAMA Project


(C)2021 和ヶ原聡司/KADOKAWA/MAOUSAMA Project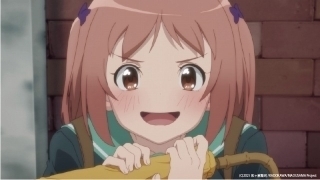 (C)2021 和ヶ原聡司/KADOKAWA/MAOUSAMA Project


(C)2021 和ヶ原聡司/KADOKAWA/MAOUSAMA Project


(C)2021 和ヶ原聡司/KADOKAWA/MAOUSAMA Project


"The Devil Is a Part-Timer!" New information was announced in the program "Dengeki Bunko Winter Festival Online 2021" delivered on December 11th and 12th. Osaka, Hikasa, and Kino appeared on the program, and talked about episodes during the new PV dubbing and auditions for the role of Alas Rams.

Work information The Devil Is a Part-Timer! (Phase 2) Updated on March 8, 2021


Work information Event information
The Devil Is a Part-Timer! (Second stage)
Staff information
[Original] Satoshi Wagahara ("Dengeki Bunko" published by KADOKAWA) [Original illustration / character design draft] 029 The Devil Is a Part-Timer! (Second stage)
Synopsis
Demon Castle is a six tatami mat room !? Freeter Demon King's popular fantasy is back again !! Demon King Satan who came to Tokyo in modern Japan from another world Ente Isla after being defeated by a brave man. Every day I make a living as a part-time worker while being caught in the rough waves of the Japanese economy. However, Emilia, the brave man who came to Japan in pursuit of the Demon King, also worked as a tele appointment!
cast
Demon King Satan / Sadao Maoku: Ryota Osaka Brave Emilia / Emi Yusa: Yoko Hikasa Chiho Sasaki: Nao Toyama Devil Marshal Alsiel / Shiro Ashiya: Yuki Ono Devil Marshal Lucifer / Hanzo Urushihara: Hiro Shimono Kanae
Related Links
[Official site] https://maousama.jp/
Event information / ticket information
Starts at 20:50 on Sunday, December 12th
Dengeki Bunko Winter Festival Online 2021 "The Devil Is a Part-Timer!"
Cast: Ryota Osaka, Yoko Hikasa
Click here for details
(C) 2021 Satoshi Wagahara / KADOKAWA / MAOUSAMA Proje
ct