Asami Seto & Mamoru Miyano Chihayafuru & Taichi will guide the venue to the "Chihayafuru Exhibition" audio guide
News Friday, December 10, 2021 12:00
Asami Seto & Mamoru Miyano Chihayafuru & Taichi will guide the venue to the "Chihayafuru Exhibition" audio guide
The audio guide is the main characters Chihaya & Taichi!
(C) Yuki Suetsugu / Kodansha
Asami Seto (role of Chihayafuru Ayase) and Mamoru Miyano (role of Taichi Mashima), who are the main casts of the anime version, participated as audio guides for the "Chihayafuru Exhibition", which displays the original drawings of the shojo manga "Chihayafuru" by Yuki Suetsugu. I found out that I would do it. With an audio guide set by Chihaya and Taichi to guide you through the venue, you can look back on the story and charm of the work while guiding the venue.
"Chihayafuru Exhibition" is the largest exhibition of original paintings in the history of works that looks back on the story of "Chihayafuru" through more than 500 original paintings. It will be held in Matsuya Ginza, Tokyo from December 27, 2021 to January 17, 2010, and the admission fee is 1300 yen for general (advance fee: 1000 yen), 800 yen for high school students (600 yen), 600 yen for junior high school students (500 yen). ), Elementary school students 300 yen (300 yen). The rental fee for the audio guide is 700 yen (tax included / common on the day of advance sale * sales at the traveling exhibition are undecided).
In addition, at the restaurant city on the 8th floor of Matsuya Ginza, a collaboration menu with MG Cafe is prepared, and if you order one collaboration menu, you will receive one novelty coaster at random (novelty is limited in quantity).
Collaboration menu "Chihaya's Ice Ginger Chocolate"
(C) Yuki Suetsugu / Kodansha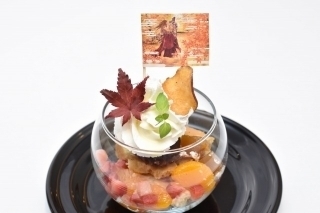 Collaboration menu "Japanese-style parfait of autumn leaves and potatoes"
(C) Yuki Suetsugu / Kodansha
Collaboration menu "Karuta sandwich basket"
(C) Yuki Suetsugu / Kodansha