"Theatrical version Jujutsu Kaisen 0" admission privilege is the fastest screening of the booklet "0.5 volume" on the first day of release
News Monday, December 6, 2021 19:00
"Theatrical version Jujutsu Kaisen 0" admission privilege is the fastest screening of the booklet "0.5 volume" on the first day of release
A new extra edition manga is posted in the admission privilege booklet
A new extra edition manga is posted in the admission privilege booklet
(C) Gege Akutami / Shueisha / Jujutsu Kaisen Production Committee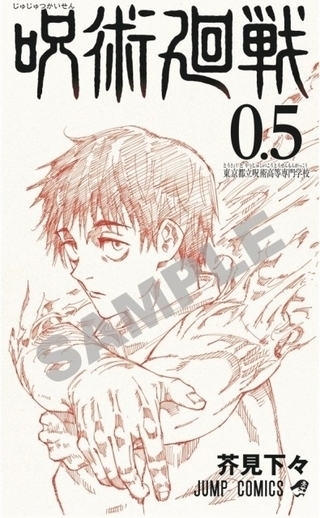 As an admission privilege for "Theatrical Version Jujutsu Kaisen 0", it was found that the booklet "Jujutsu Kaisen 0.5 Tokyo Metropolitan College of Magic", commonly known as "Volume 0.5", will be distributed to a total of 5 million people nationwide. Furthermore, on December 24, the first day of the release, it was decided that the fastest screening will be held in Kyoto and Miyagi, which are closely related to the work, and in the five major cities (Tokyo, Osaka, Aichi, Fukuoka, Hokkaido) nationwide.
Volume 0.5 of the admission privilege contains a new extra manga (9 pages) drawn by the original author, Gege Akutami, the initial name, one question and answer by Mr. Gege, the movie version setting material, and comments from the anime staff and cast. Will be done. The newly drawn manga is an extra edition that depicts the daily life of the first graders such as Yuta Otobone, the main character of this work. On the initial name page, the name of "Jujutsu Kaisen", the first episode of "Jujutsu Kaisen College" for the "Jujutsu GIGA" serialization conference, will be posted.
The fastest screening will start at midnight on December 24th (midnight on December 23rd). Seat sales will begin at midnight on December 17th (midnight on 16th) at the screening theater website. The theaters where the fastest screenings are held are as follows.
▽ Tokyo
TOHO Cinemas Shinjuku
Shinjuku Baltic
TOHO Cinemas Hibiya
TOHO Cinemas Shibuya
TOHO Cinemas Ikebukuro
▽ Osaka
TOHO Cinemas Umeda
TOHO Cinemas Namba
▽ Kyoto
TOHO Cinemas Nijo
T Joy Kyoto
MOVIX Kyoto
▽ Aichi
Midland Square
▽ Fukuoka
T. Joy Hakata
▽ Miyagi
TOHO Cinemas Sendai
▽ Hokkaido
United Cinema Sapporo
Sales of regular screenings after December 24th will start at midnight on December 21st (12:00 midnight on December 20th) (excluding some theaters).